This post may contain affiliate links.* As an Amazon Associate I earn from qualifying purchases. Click here to read our affiliate policy.
Estimated reading time: 38 minutes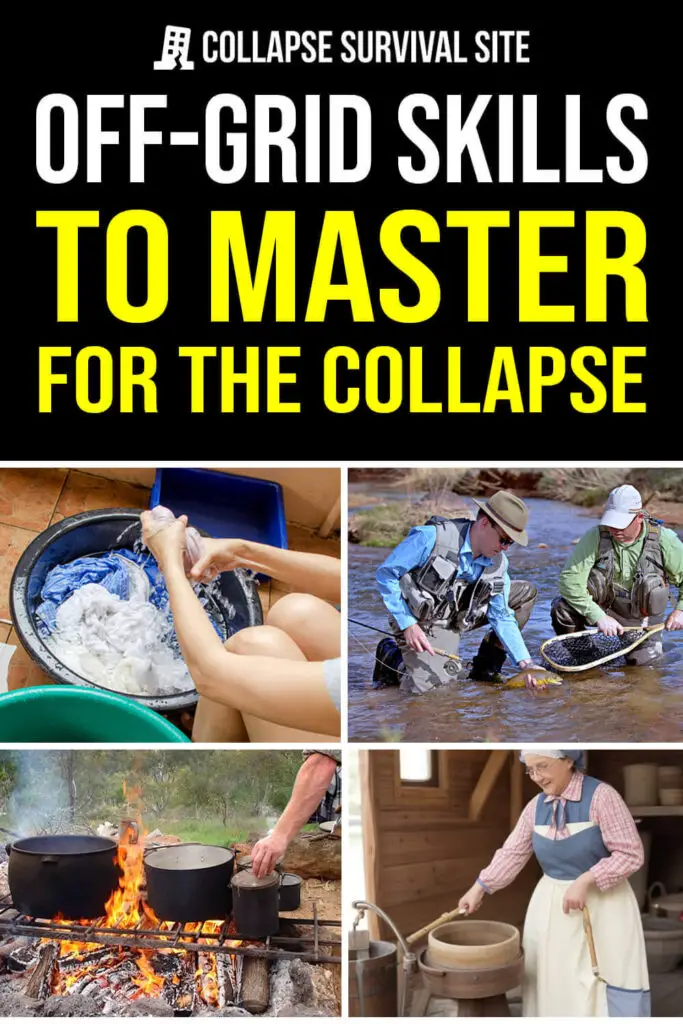 Historically, any level of societal collapse has an immediate effect on goods and services within a country and even across continents. Things that people would take for granted are in short supply or simply unavailable. 
As time goes on and the collapse continues access to many of life's basic necessities becomes a daily challenge. It's in this environment that the ability to enable self-sufficient actions and skills can make all the difference in the health and well-being of an individual, their family and their community.
The big question is to what degree can you enable self-sufficiency in an environment short of resources?  The best answer is to engage the skills you need to survive and maintain a stable and healthy lifestyle.  The more knowledge and skills you possess, the better your odds for enduring the challenges of highly uncertain times.
Want to save this post for later? Click Here to Pin It On Pinterest!
We're going to review many of the basic skills that can get you and your family through various scenarios that a societal collapse could bring about.  It's unrealistic to think that most people could master all of these skills, but we'll conclude with the value of forming and embracing a community to share skills, knowledge and goodwill to get through the worst of it.
To a large degree, various links to books, articles, videos and basic tools and materials will be featured.  The idea is to understand the importance of many of these skills, and to at least acquire some of the knowledge you need to create, build, repair and restore the necessities of everyday life.
Some of these skills are modern ideas that have emerged.  Others are inspired by the self-sufficiency of our pioneer ancestors, and a few are long-forgotten technologies embraced by ancient civilizations. All of them will have a place in a time when more and more of us may find ourselves on our own.
Fundamental Survival Skills
These are skills focused on the basic necessities of life.  They represent the fundamental priorities we need to survive ranging from food and water to first aid.
Books:
Articles:
Videos:
Supplies:
Water
If for any reason the water is not running -finding and purifying water will become an immediate priority.  Knowing where to look and how to collect, purify and store water is a skill some people have never stopped to think about. 
Many may be thinking about it quickly given that we can't survive 3 days without it. In actual fact, 5 civilizations collapsed in the first place because of a shortage of water.
Books:
Articles:
Videos:
Supplies:
Finding Water
Knowing where to look for water in and around your location is a necessary skill in addition to the ability to assess water quality. Rivers, lakes and ponds are the obvious choice but springs and creeks may or may not be better alternatives. Rainwater is always a possibility and don't forget, there's 40 to 50 gallons of water in that water heater in the basement for emergencies.
Books:
Articles:
Videos:
Supplies:
Purifying Water
Even rainwater requires some level of filtering and purification, mostly due to the collection of dust, dirt, debris and bird droppings that accumulate on a roof which is a common collection source for rain.  Knowing how to construct a filter and how to purify water with improvised materials is skill that transcends water purification tablets that will eventually run out.
Books:
Articles:
Videos:
Supplies:
Water Storage
It makes sense to store water but there are limits.  You need a lot of water in storage to last any length of time and water is heavy at 7.5 pounds per gallon.  Water also has a shelf-life so knowing what to do to preserve and store water and all of the things involved with water storage is an easy but important skill to know.
Books:
Articles:
Videos:
Supplies:
Wells
Most of us wouldn't think to dig a well on our property –at least until we've gone a few months struggling to find and collect water.  Success with any dug well depends a lot on geography and your location, but knowing how to find the best spot to dig a well, and what's involved with actually digging it is a skill that can not only help you but friends and family members as well.
Books:
Articles:
Videos:
Supplies:
Food
Food seems to emerge as a priority in most of the survival information out there, but stockpiling is a short-term solution if you become totally dependent on food-storage for nutrition.  Skills associated with food go beyond storage to gardening variations, food preservation, and cooking approaches in a possible off-grid environment. 
Books:
Articles:
Videos:
Supplies:
Gardening
Sustainability is key to many aspects of survival and self-sufficiency through gardening is one of the most sustainable activities.  How to turn your yard and even buckets into a high yielding garden can go a long way towards providing you with food security.
Books:
Articles:
Videos:
Supplies:
Cooking
Many of us are accomplished barbecue chefs for the occasional weekend cookout.  But how many of us can cook outdoors for 3 meals a day, 7 days a week? 
At a time without gas or electric power, having the ability to cook a variety of meals from soups to stews to baking and roasting over an open-fire will be a necessary skill.  It may be worth taking the time to learn about all of the ways to do it.
Books:
Articles:
Videos:
Supplies:
Food Preservation
Whether you grow your own vegetables, raise livestock, hunt, fish, or forage –knowing how to preserve the foods you hunt and gather is a critical skill.  This is especially true in a time that is potentially without the conveniences of refrigeration or freezing. 
Books:
Articles:
Videos:
Supplies:
Medical Skills and First Aid
A nightmare scenario is when hospitals are overrun and doctors and dentists are simply unavailable.  Having a range of medical skills that go beyond Bandaids and sunburn are literally vital. 
Books:
Articles:
Videos:
Supplies:
Natural Remedies
Pharmaceuticals run on a delicate supply chain and even over-the-counter medications will be in short supply after a societal collapse. Knowing herbal and natural remedies that are proven and clinically validated will be one of the most important skills in a collapsed society. 
Books:
Articles:
Videos:
Supplies:
Heating
Without the grid, most people don't have heat.  Having the knowledge and skills to design, build and improvise heating solutions is something some of us don't spend enough time thinking about.  Having the skills to improvise and implement alternative heating solutions for a variety of applications is another critical skill set.
Books:
Articles:
Videos:
Supplies:
Cooling
The recent heat waves we keep reading about may become a regular occurrence.  Air-conditioning is the go-to solution, but what do you do when the power is out?  There are ancient solutions and some new ways to stay cool and hydrated when the heat is at its worst.
Books:
Articles:
Videos:
Supplies:
Self Defense
If you look at collapsed societies today from Haiti to Somalia you'll see the need for varying levels of self defense preparations. And it's not about just collecting a lot of guns. Here are some of the key skills to keep in mind when all things become unpredictable.
Books:
Articles:
Videos:
Supplies:
Off-Grid Skills
If one thing consistently shows up in collapsed societies from the recent past it's that the local power grids are both unreliable and often down. 
And it's not just the power grid but Internet, communications, water and most everything else that relies on electricity to varying degrees to be functional. This is when pioneer and even ancient skills that emerged at a time without power become critical knowledge for survival.
Books:
Articles:
Videos:
Harvesting the Power of Water
Anyone living near a spring, creek or river has the ability to harness water power to accomplish a variety of tasks from generating electricity to powering machinery and tools.  You just have to have the skills to make it happen.
Books:
Articles:
Videos:
Supplies:
Harvesting the Power of the Wind
Windmills and wind power are nothing new.  Farms have used windmills for centuries to pump water and the Dutch are still famous for their windmills to grind grain into flour and power everything else on their farms. 
There are contemporary solutions that can be used and understanding how to erect them and harness the power of the wind is an old skill worth revisiting.
Books:
Articles:
Videos:
Supplies:
Harvesting the Power of the Sun
Cultures have been using the sun to dry fruits, vegetables and wild game for centuries. The ancient Egyptians used polished, parabolic sheets of bronze to reflect the sun into darkened spaces. 
And today, we have solar panels that harness the sun's energy to create electricity. Knowing all the ways to use the sun is an ancient skill and if you don't have those solar panels on hand –you can actually make a solar panel from old CD's.
Books:
Articles:
Videos:
Supplies:
Harvesting the Power of Gravity
You don't come across a lot of information about the power of gravity but ancient cultures were masters of using gravity to their advantage.  Understanding how you can use the weight of objects and liquids to your advantage with levers, fulcrums and pulleys is a lost skill worth remembering. 
Books:
Articles:
Videos:
Supplies:
Hand Tool Mastery
In a grid down scenario extension cords will be a thing of the past.  So will all of the tools that were powered by electricity. Having the skill and ability to use hand tools for all of the things that we use to do with power tools will be the only option for a range of projects. 
Books:
Articles:
Videos:
Supplies:
Blacksmithing
Another lost art worth remembering.  A simple anvil and a homemade forge will give you the ability to forge and shape metal with the use of some basic tools.  It's a great skill to master as a source of skill-barter, or because there are some things that duct tape and zip-ties just can't fix.
Books:
Articles:
Videos:
Supplies:          
Animal Husbandry
In addition to gardening, raising animals for food is a critical and sustainable practice and skill. It can be as simple as chickens and rabbits or as ambitious as pigs and cows. Horses are the go-to source of power on any Amish farm; you could even consider fish-farming and raising other fowl like ducks, turkeys and geese.
Books:
Articles:
Videos:
Supplies:
Basic Trade Skills
The ability to build, re-build, repair and restore anything will be a constant challenge and in constant demand.  These skills are excellent barter skills and will most likely be needed on a regular basis.
Books:
Articles:
Videos:
Carpentry
While it's true that lumberyards may be a thing of the past, there will be no shortage of scrap wood, pallets and even timber to some degree.  The carpentry skills and ability to work with wood will be one of the most valuable skills you can master.
Books:
Articles:
Videos:
Supplies:
Timber Frame Construction
The Amish are known for their timber frame construction skills, and at a time when even basic things like hardware may be in short supply it makes sense to understand this brilliant concept. 
It involves learning the ways to chisel, shape and fashion wood to make joints that don't require traditional hardware to hold together. In a time of widespread collapse it may become one of the most viable approaches to new construction.
Books:
Articles:
Videos:
Supplies:
Lumbering and Timber
If you have trees on your property or access to wild trees you have a valuable source of timber for building and firewood.  That assumes you have the skills to safely fell a tree and know how to cut, saw and shape it into the lumber you need. 
Books:
Articles:
Videos:
Supplies:
Roofing
Roofs are the most susceptible to all manner of natural disasters from wind to hail to falling trees and simple wear and tear. The skills to fix a roof are fairly straight-forward but failing to make any repairs or new installations improperly done can have disastrous consequences. Knowing how to do roofing right can avoid adding another problem to what may be a long list of disasters.
Books:
Articles:
Videos:
Supplies:
Masonry
Basic masonry is another fairly simple skill, but there are more than a few mistakes that can make all of your efforts a fail.  This is another skill that can be bartered from walling a well to new foundations for structures and a growing demand for fireplaces.
Books:
Articles:
Videos:
Supplies:
Plumbing
Old plumbing never dies, it just starts to leak a lot. Whether you're improvising a plumbing solution for your new rain barrels or confronted with a leaking pipe in the basement, there's a good chance a good plumber will be hard to find. 
Take some time to master at least some of the basic plumbing skills. And while you're at it, assemble some of the critical tools.
Books:
Articles:
Videos:
Supplies:
Electrical
Whether you're installing solar panels for the first time or trying to connect a generator to power your house, understanding the skills surrounding electricity and electrical connections is something you may eventually encounter.  This is especially true in a time of inconsistent electricity when brown-outs and black outs cause power surges when the electricity occasionally comes back on.
Books:
Articles:
Videos:
Supplies:
Automotive repair
If you look at photos of streets from countries in the midst of economic or societal collapse you'll no doubt notice something about the cars on the street.  They all tend to be older and very, very used.  In an economy where few can afford the grand luxury of a new car the only alternative is to keep those old cars running.  This is a skill well worth learning regardless of the situation.
Books:
Articles:
Videos:
Supplies:
Small Engine Repair
Here's the short list:  chain saws, lawn mowers, tractors, leaf blowers, trimmers, go carts, motorcycles, mini-bikes, compressors, generators, and more. 
It's always going to be a challenge to find gas, but if gas is on hand it sure helps to have a chain saw working or a generator running. In a time when most things have to be done by hand it makes sense to have the skills to keep those rare and precious small engines running.
Books:
Articles:
Videos:
Supplies:
Craft Skills
This goes beyond hobbies to what could better be described as life skills.  This is the ability to make many of the domestic things we need for everyday life. 
Some of these skills are very traditional like sewing and quilting, others a little more complex like pottery and leather crafting. At a time when everything is hard to buy it makes a lot of sense to have the skills to make or fix it yourself.
Books:
Articles:
Videos:
Supplies:
Sewing
Everyone should know this basic skill and it's important to remember that much of it will be done by hand.  The supplies are inexpensive so make sure you have plenty stocked up for the day when you will most definitely need them.
Books:
Articles:
Videos:
Supplies:
Knitting, Crochet and Quilting
Another skill using simple tools and materials with some basics that are easy to learn.  Take the time to understand the basic stitches, even if it's just to knit a foraging bag from some old cordage.
Books:
Articles:
Videos:
Supplies:
Pottery
You don't need a potter's wheel, but it helps. If you live in an area with any clay in the ground the skills of a potter will allow you to make and fire a variety of utensils from bowls to plates, cups and pitchers. It'll be good to know how to improvise if you break a plate and can't replace it from long blocks of closed stores.
Books:
Articles:
Videos:
Supplies:
Woodworking
It's not about decorations, it's about shaping wood to make axe handles, fix drawers and shutters, craft utensils, fix windows and doors and anyhing else that requires precise cutting and crafting of wood.  When no one else is around to do it, it's all up to you.
Books:
Articles:
Videos:
Supplies:
Leather Crafting
Another lost art that is surprisingly simple and allows you to upcycle old pieces of leather into new items from belts to bags to axe and knife sheaths and anything else you need with the flexibility and durability of leather. 
Books:
Articles:
Videos:
Supplies:
Upcycling in General
In a time of widespread improvisation, upcycling skills give you the ability to make anything out of anything. This is a hybrid of skills that's defined more as a mindset and the ability to see the potential of lost or discarded objects. 
It's all about having the ability to see the potential for anything and knowing how to reinvent it to make what you need.
Books:
Articles:
Videos:
Supplies:
Social Skills
Many of us already possess a good set of social skills.  But we may need some new ones or enhance some of the skills we already have in a time of collapse. 
From a stress standpoint it's going to be a very tense time and interactions with other people will require a combination of caution and sensitivity. There will also be some unique situations that we may have little or no experience with.
Books:
Articles:
Videos:
Negotiating
To a larger degree, every conversation with others can fall into the category of a negotiation. There may be little time nor patience for small talk and when people don't have much there's a good chance they'll be looking for something. Take the time to rethink your basic negotiation skills.
Books:
Articles:
Videos:
Bartering
Barter economies emerge rapidly in collapsed societies. Knowing how to assemble items for barter and once again, negotiating for a trade will be a valuable skill in a barter marketplace.
Books:
Articles:
Videos:
Languages
It's tough to learn a new language but it can be done.  You might also want to learn some common phrases and expressions if there are people in your area who don't speak your language.  Times of societal collapse have seen epic migrations and if you find yourself surrounded by people you don't understand you'll be at a disadvantage.
Books:
Articles:
Videos/Apps:
Building a Community
We saved the most important skill for last. It goes beyond safety in numbers. A strong community is built on sharing and compassion. Part of that sharing and compassion is offering a unique skill either in trade or as a generous gesture to help someone overwhelmed by a task. 
Just as important is assessing the skills of people in your community. It's unreasonable to believe that someone could master all of the skills we've identified, but across a community there's a good possibility that many of those skills will be represented by the collective group.
Take the time to build a community or join one. Make sure there is some level of identification of skill sets across the community so people know where to turn for help with a situation or challenge. In the end, the community you inhabit –whether it be extended family, friends, a neighborhood or a village will be the ultimate factor in your survival after the collapse.
Books:
Articles:
Videos:
Supplies:
Yes, There's More
Without doubt we probably missed some skills that would be important in a collapsed society.  From beekeeping to candle making to surgery, there are numerous skills and capabilities that will be needed when events are so unpredictable.
The skills you'll need will also be dependent on your location and situation.  If you can think of any skills we missed pursue them, or better yet identify them in the comments section below.
Thanks for reading! If you're new here, I highly recommend reading this article which explains why civilization is going to collapse. If you want to start preparing, check out our list of free books and manuals and our list of recommended supplies. If you're feeling anxious about collapse, please visit the support page for tips on how to manage your emotions, places where you can get help, and lists of articles and videos on coping with collapse anxiety.