This post may contain affiliate links.* As an Amazon Associate I earn from qualifying purchases. Click here to read our affiliate policy.
Estimated reading time: 9 minutes
Everyone is concerned about the economy right now; and with good reason. We haven't had inflation this high for a good four decades. If we're not in a recession already, then we're on the brink of one.
Apparently, economists (who can't agree on one set of rules) are in disagreement as to whether or not we're in a recession; but even those who say we aren't recognize that we're on the brink of it. 
I've been hearing financial gurus' prophecy a financial collapse for years. It doesn't always make sense; but this time it does. Not only do we have the high inflation going on, but we still haven't recovered from COVID and the lockdowns that countries like China have instituted to battle it.
With the economy not growing, all it would take is one more financial problem to topple the whole house of cards. 
With all that on the table, it seems rather clear that all it would take is one more bump in the road to send the entire economy over the cliff. With that in mind, we need to be getting ready today, so that when it does come, we're not caught in the same mess as everyone else. 
Want to save this post for later? Click Here to Pin It On Pinterest!
Get Out of Debt
The people who have the worst time in any financial collapse are those who have debt. We can see the same thing in the Great Depression, the Great Recession, and even the Argentinean collapse. The people who lost their homes in 2008 and 2009 did so because they had more debt than they could pay. 
For most of us, getting out of debt may require some pretty drastic action, because we are living on 110% of our income. You may have to sell your new car and buy an old one or downsize your home. Regardless of what it takes, making that effort will help ensure that you can continue paying the bills, when things go south and there isn't as much money to go around. 
But even without selling cars and houses, there's a lot that most of us can do to reduce our debt. Look for things you have debt on, which your family doesn't really need, and find ways of getting rid of them. Then put that money into paying off other debts.
Most financial gurus will say to pay off the smallest bills first or those with the highest interest rate; but since we're talking about a financial collapse, you're best off dealing with debts on things that can be repossessed. If you're going to end up defaulting on a debt, you're better off defaulting on one that only affects your credit rating.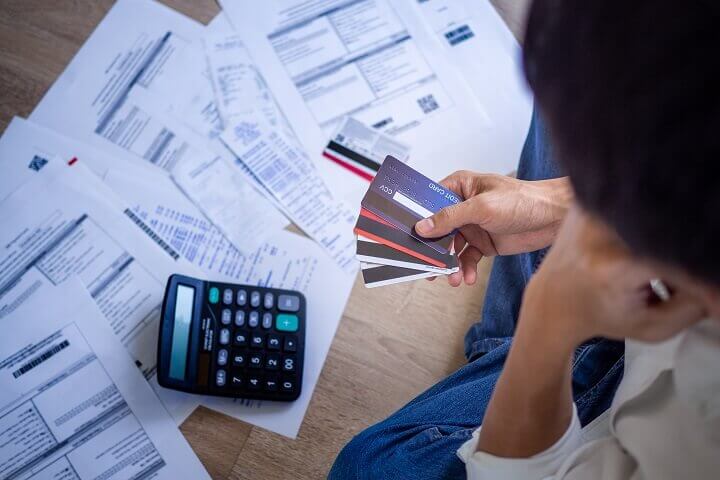 Lower Costs
Side by side with getting out of debt is lowering your costs. We all have costs figured into our monthly budgets that we really don't need, even if we don't have a formal budget. These can include eating out, entertainment, and shopping for things we really don't need. 
Do you really need five subscription services for streaming movies? Why not just have one and make good use of it? Then, when you've seen what you want to on that one, shut it down and get a different one. Or, if you want to have several, handle it as a family, with each household paying for one and sharing it with the rest of the family. 
Eating out is expensive, as well all know, but the average American family spends more on eating out than they do on their groceries. Much of this comes from spontaneous eating out, buying food from restaurants because you're too tired to cook.
That problem can be solved by cooking in batches and freezing. Then, when you need a meal and are too tired to cook, you can take something out of the freezer and thaw it out. 
Become Self-Sufficient 
During the Argentinean collapse, food shortages were serious. That wasn't because farms weren't growing food, but because inflation was so bad that it wasn't profitable to ship that food to the stores in the city. The only people who had enough were those who were growing their own. 
This is part of prepping anyway. Growing our own food and doing other things to make ourselves self-sufficient is part of who we are. With the price of everything rising, the more we can do for ourselves, the more money we can save. 
But being self-sufficient doesn't just mean being able to grow our own food, it literally means not having to pay others to do things for you. The more that you can learn how to do for yourself, from fixing your car to plumbing repairs, the less you're going to have to pay someone else to do. That could be a real life-saver, when money is tight. 
Build Your Stockpile
Your stockpile is an important part of becoming self-sufficient. But in the case of a financial collapse, that stockpile could do more than just provide you with survival food, it could save you lots of money.
Considering that food tends to go up faster in cost than most other things, investing in extra food is a good way to make sure you get more for your money. When the collapse happens, you won't have to be paying a premium for food, if you already have it. 
Obviously, there are some limitations on what you're going to be able to do. Your best bet is to be taking advantage of sales to build your stockpile. If you see a really good deal on something that your family uses, especially if you use a lot of it, then stock up, well beyond what you normally would. 
Don't forget non-food items either. As long as it is something that won't go bad and that your family regularly uses, go ahead and take advantage of those sales and coupons. As things get more expensive, you'll be glad that you did. 
Make Sure Your Job is Secure
There are a lot of jobs that are at risk when the economy goes south. The first thing that most people cut out of their budgets is anything that could be considered a luxury.
The next thing they cut out is replacing things that they can keep using. Luxury car companies will be in trouble first, but other car manufacturers will follow soon after. On the other hand, mechanics shops will do well, as people try to keep their old cars running longer. This is why it's good to learn skills that pay during a recession.
It's not just products which people stop buying during a time of financial difficulty, it's services as well. Few people will be able to afford going to a masseuse or to get their nails done when they're having trouble putting food on the table.
While I know that there are people who are addicted to shopping and spending money, unless those people are wealthy, most of them will have to do without. 
Normally, the most secure jobs there are all in the public sector. Teachers, firemen, police, and public utility workers rarely lose their jobs. But that's not to say they can't. During the Great Recession, there were many teachers who lost their jobs, with school districts putting more and more children into each classroom. 
Develop a Side Gig
No matter what, you should have some sort of side gig to bring in extra money and as something to fall back on, should you lose your job. Maybe that side gig wont' provide enough money to pay the mortgage, but it might keep the lights on and food on the table. 
The best sorts of side gigs to have during a time of financial crisis are those which take advantage of people's needs. When people aren't buying new cars, they need mechanics to keep their old ones working.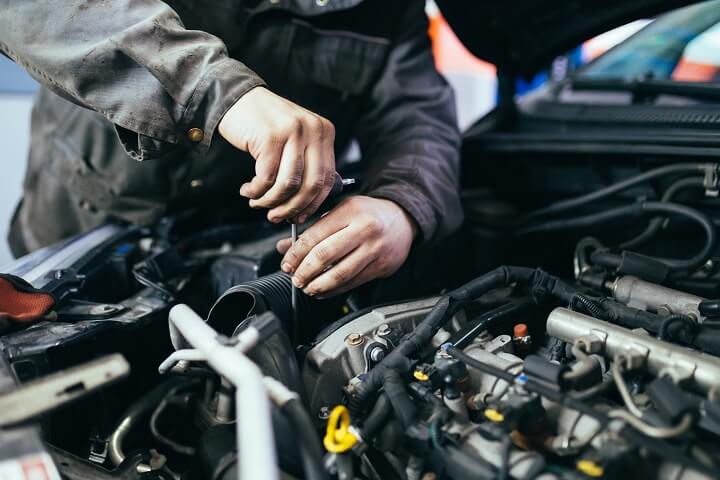 The same goes for other electronics and appliances. Few people know how to repair these things today, so having a little workshop in the garage, where you do those sorts of repairs can be a really lucrative business. 
If you're going to develop a repair business on the side, I'd recommend stocking up on common parts that you're likely to need. You don't have to do that all at once, but you could use part of your profits for that. Then, when the collapse hits and it is hard to get parts, you'll have something to work with. 
Help Your Kids Make Good Educational Decisions
We live in a time when our children are being told that the only way to make a decent living is to get a college degree. We have people with degrees flipping burgers because they bought a worthless degree. It's getting to the point where you need a masters degree to get any sort of responsible position. 
Part of the problem is that so many of our children get worthless degrees in fields where there aren't any jobs. There's nothing wrong with getting an engineering, teaching or medical degree, if that's what they want to do. But to get a degree in gender studies or underwater basket-weaving isn't going to guarantee them a steady income. 
On the other hand, if your kids have an aptitude for working with their hands, there is a desperate need for trades-people today, many of which are not earning $100,000 per year. There's nothing wrong with being a carpenter, electrician or plumber. They can make a good living and not have to be tied to a computer and a desk somewhere. 
Get Healthy 
Take the opportunity now to do whatever you need to, in order to get yourself healthy, whether that means going to the doctor, losing weight, or getting new glasses. Medical expenses are high anyway, and they won't be any cheaper during a time of financial hardship. They'll just be harder to pay for. 
It makes a lot of sense to take care of these things now, when it is easier to pay for them. Not only that, taking care of them now could mean that you don't have problems later. Losing weight can help eliminate potential problems with high blood pressure, diabetes and knee problems. Get healthy now while you still can.
Thanks for reading! If you're new here, I highly recommend reading this article which explains why civilization is going to collapse. If you want to start preparing, check out our list of free books and manuals and our list of recommended supplies. If you're feeling anxious about collapse, please visit the support page for tips on how to manage your emotions, places where you can get help, and lists of articles and videos on coping with collapse anxiety.