This post may contain affiliate links.* As an Amazon Associate I earn from qualifying purchases. Click here to read our affiliate policy.
Estimated reading time: 18 minutes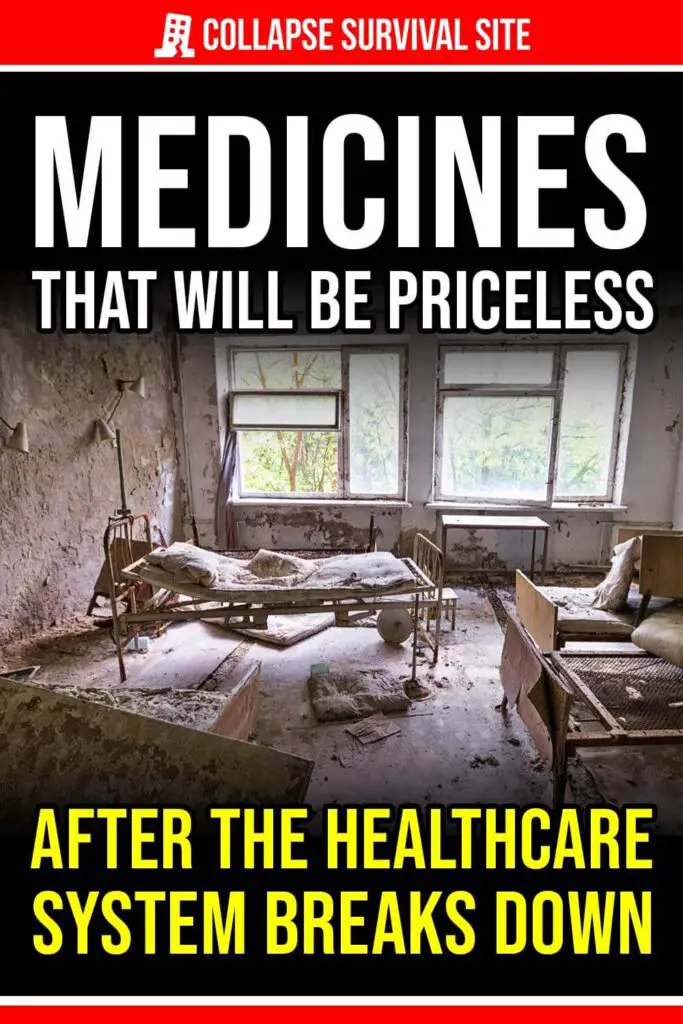 If you're one of those people worried about the future collapse of the U.S. Healthcare system, there's some bad news. It has already started. The evidence became clear during the Covid-19 pandemic. The American healthcare system is broken.
But it goes beyond an overwhelmed health system that has consistently put profits over care. The pharmaceutical industry continues to hike the prices for common and life-saving medicines at a faster pace than the cost of all other healthcare.
The looming question resides in the disastrous scenario affecting healthcare after an economic or societal collapse. The high prices of today will seem like a value when basic healthcare is unavailable and prescription drugs define a new black market.
Want to save this post for later? Click Here to Pin It On Pinterest!
And It Gets Worse
Today, the U.S. healthcare system depends heavily on prescription pharmaceuticals manufactured in other countries. This dependence on markets like India, China, and the European Union creates not only supply chain issues following a collapse, but the potential impacts from war or political chaos.
The simple fact is that most of our prescription drugs are manufactured overseas. The FDA took a narrower look at the supply chains for the 370 drugs listed on the World Health Organization's (WHO) list of "essential medicines," which includes "anesthetic, antibacterial, antidepressant, antiviral, cardiovascular, anti-diabetic, and gastrointestinal agents."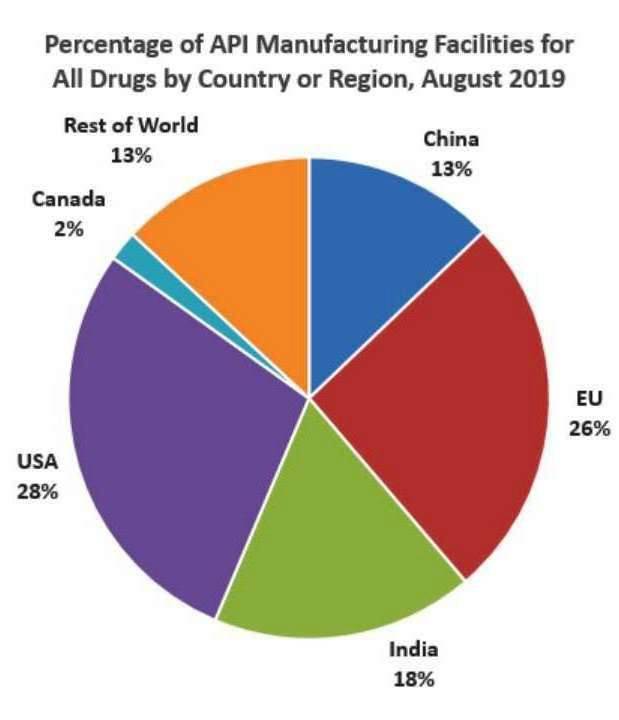 The results were similar: 28 percent of production facilities are in the United States, with 18 percent of them in India, 13 percent of them in China, and 41 percent located somewhere else in the world.
The International Business Times reported that, though India still leads in generics, India receives 80 percent of its raw ingredients from China. Penicillin is the go-to antibiotic for dozens of bacterial infections. It's been 15 years since the last US penicillin plant closed its doors. China came in with lower prices and took over the market. What would happen if we stopped receiving antibiotics?
Commonly used antibiotics like amoxicillin, ciprofloxacin and tetracycline are particularly dependent on China, according to industry analysts and Indian drug makers that rely on Chinese material. High blood pressure treatments, including Valsartan, are also predominantly produced in China.
Most drug companies are positioned to survive short-term supply shocks, J.P. Duffy, an attorney who specializes in the pharmaceutical trade, told European Pharmaceutical Review, a trade publication. That's because most have a stockpile intended to last for six months to a year.
But What About the Long-Term
It's starting to feel like too many perfect-storms are brewing on many fronts around the world and any significant threat to society or the global economy will quickly exhaust a six month to a year supply of medicines.
Given the fact that almost 50% of the U.S. population is suffering from one or more serious and chronic conditions the constant need for pharmaceuticals show no sign of tapering.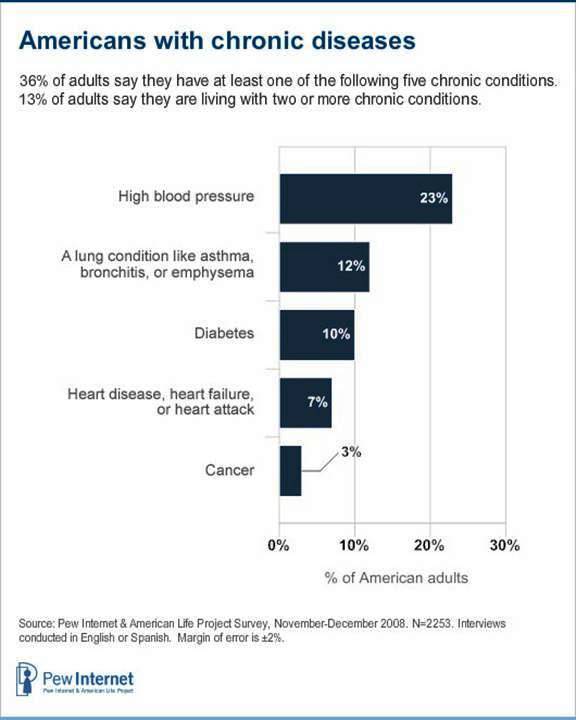 And it's not just about prescription medicines.
The OTC Dilemma
Over-the-counter medicines (OTC) are used to treat a range of symptoms common to numerous illnesses. From aspirin to acetaminophen and even antiseptics and antacids are often used by people dependent on managing some of the debilitating symptoms of many diseases. The same challenges affecting prescription pharmaceuticals can and will affect the manufacture of OTC's.
Most aspirin products come from China and an even wider range of OTC's come from fragile markets around the world. Some symptoms and conditions can be treated with over-the-counter medications to varying degrees, but if neither prescription meds nor OTC's are available the threat to the health of 50% of the U.S. population will be immediate.
Based on a RAND organization study, the health of the American population will not improve moving forward.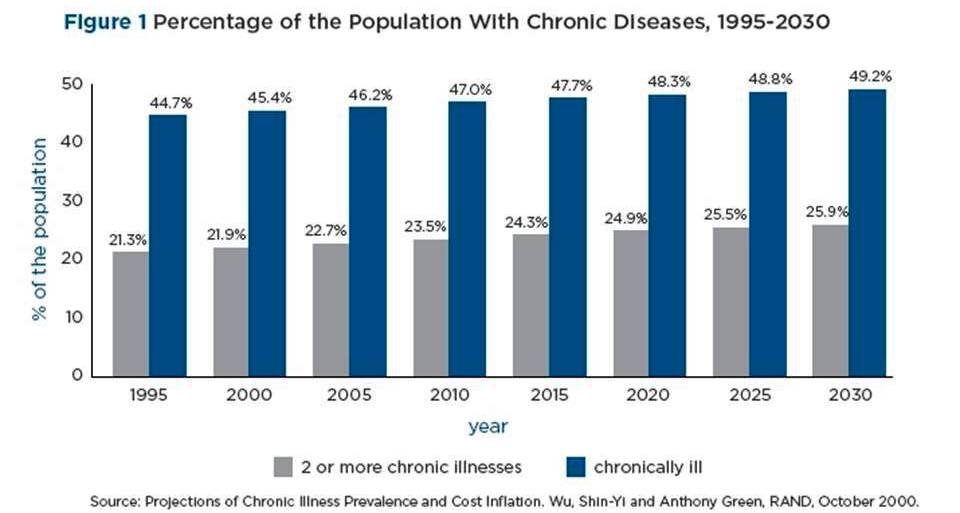 By 2030 we'll only be sicker than today and the only unfortunate and tragic way to reduce those numbers will be as a result of the death of millions without medication.
The Most Critical Medications
Critical medications fall in the category of life-sustaining if not life-saving medicines. In one category are the antibiotics that fight bacterial infections. In the other category are medications that people need to manage chronic conditions from diabetes to high blood-pressure to asthma.
The most effective medications across these two categories are usually prescription pharmaceuticals. They are sometimes known by their brand names like Lipitor, or by Lipitor's generic name: Atorvastatin.
Across the rest of this exploration we'll be referring to various medicines by their generic names although we'll sometimes refer to the brand names parenthetically.
Our Objective
Our goal in this exploration is to identify the most critical medicines; identify OTC medicines that can help with symptom relief, suggest ways to stockpile these medications as well as identify natural therapies when a medication is no longer available.
We'll also cover veterinary meds for pets and livestock and touch on a subject pursued by a missionary when he used veterinary meds for emergency treatments on human patients.
The reason we're going to spend some time on medication alternatives is due to the challenge of stockpiling something as complicated as prescription pharmaceuticals. The most we can typically fill of any prescription at one time is a 90-day dose. And it gets more complicated after that.
No credible doctor will give you a prescription for a condition you do not have. That makes it difficult to potentially stockpile for the development of a "possible" condition in the future. There are various "online" pharmacies that will offer prescriptions for assorted conditions. It's how some people have purchased Viagra online.
The credibility of some of these "online" pharmacies is worth questioning and even approved medicines from pharmacies have been known to be tainted or poorly manufactured.
Some Canadian pharmacies have developed a level of trust, and in some instances you can get more than the 90-day limit you often encounter at U.S. pharmacies. Some have reported receiving as high as 500 doses. However, there's a possibility that they won't accept your insurance or you insurer may decline the order.
But do some due diligence whenever dealing with an online pharmacy. See if there are any reviews of the business. You can Google it with the name of the company and the word "reviews."
If you have any experience with an online pharmacy, please share it in the comments section below.
The 20 Most Common Prescriptions for Chronic Conditions
The rankings in the chart below are based on the number of prescriptions for each medication.
| | | |
| --- | --- | --- |
| TOP 20 MEDICATIONS | PRESCRIPTIONS (MILLIONS) | MEDICAL CONDITION |
| Atorvastatin (Lipitor) | 114.5 | High cholesterol |
| Levothyroxine (Synthroid) | 98.9 | Hypothyroid |
| Metformin (Glucophage) | 92.5 | Diabetes |
| Lisinopril (Prinivil) | 88.5 | High blood pressure |
| Amlodipine (Norvasc) | 69.7 | High blood pressure |
| Metoprolol (Lopressor) | 66.4 | High blood pressure |
| Albuterol (Proventil) | 61.9 | Asthma |
| Omeprazole (Prilosec) | 56.3 | Acid reflux |
| Losartan (Cozaar) | 54.8 | Kidney disease |
| Amoxicillin | 52.3 | Bacterial infection |
| Gabapentin (Neurontin) | 49.9 | Nerve pain |
| Furosemide (Lasix) | 43.4 | High blood pressure |
| Hydrochlorothiazide (Esidrix) | 41.4 | High blood pressure |
| Sertraline (Zoloft) | 38.2 | Antidepressant |
| Simvastatin (Zocor) | 36.6 | High blood pressure |
| Hydrocodone (Vicodin) | 30.1 | Pain |
| Bupropion (Zyban) | 28.8 | Antidepressant |
| Dextroamphetamine (Adderall) | 26.0 | ADHD |
| Clopidogrel (Plavix) | 19.3 | Blood thinner |
| Alprazolam (Xanax) | 16.7 | Anxiety |
Statistics based on
ClinCalc DrugStats
 database
Here's some detail on each one of these with brand names and conditions. In many instances the medication goes under multiple brand names.
1. Atorvastatin
Atorvastatin treats high cholesterol. It is a member of the statins or HMG-CoA reductase inhibitor class. The class has been around for decades. Since 2011, Atorvastatin has been prescribed more than other drugs in its class. The brand name is Lipitor.
Total prescriptions: 114,509,814 representing 26,640,141 patients.
2. Levothyroxine
Levothyroxine treats hypothyroidism. It is a synthetic version of the thyroid hormone T4. Brand names include Levothroid, Levoxyl, Synthroid, and Unithroid. Over the past 10 years, levothyroxine has always landed in the top three prescription drugs.
Total prescriptions: 98,970,640 representing 0,225,373 patients.
3. Metformin
There are more than 37 million people in the United States with diabetes. So, it is no surprise that metformin — a drug that treats type 2 diabetes — has consistently remained in the top 10 drugs. Brand names include Fortamet, Glucophage, Glumetza, and Riomet.
Total prescriptions: 92,591,486 representing 20,122,987 patients.       
4. Lisinopril
Lisinopril is an angiotensin-converting enzyme (ACE) inhibitor. Doctors use it to treat high blood pressure, heart failure, and following a heart attack. Brand names include Prinivil and Zestril. It has bumped back and forth between the top four spots over the past 10 years.
Total prescriptions: 88,597,017 representing 19,816,361 patients.
5. Amlodipine
Amlodipine is a calcium channel blocker. It treats high blood pressure, coronary artery disease, and angina (chest pain). Since it became a generic drug in the 2000s, it has gained popularity and risen into the top 10 drugs. Norvasc is the original brand name.
Total prescriptions: 69,786,684 representing 16,799,810 patients.
6. Metoprolol
Metoprolol is a beta-blocker. Doctors use it to treat high blood pressure, angina, heart failure, and following a heart attack. Metoprolol usage has remained fairly steady over the past decade. Brand names include Lopressor and Toprol XL.
Total prescriptions: 66,413,692 representing 15,007,908 patients.
7. Albuterol
Albuterol is an older drug, with commercialization dating to the 1960s. It was also a breakthrough in treating asthma. Today, doctors use it to treat bronchospasm from a variety of lung problems. Its consistent top ranking is a testament to its effectiveness. Brand names include Accuneb, Proair, Proventil, and Ventolin.
Total prescriptions: 61,948,347 representing 17,902,020 patients. 
8. Omeprazole
Omeprazole treats heartburn, gastroesophageal reflux disease (GERD), and stomach ulcers. It was the first member of the proton pump inhibitor (PPI) class to gain Food and Drug Administration approval. Its use has increased since it became available OTC. This also decreased the out-of-pocket cost for the drug. The brand name is Prilosec.
Total prescriptions: 56,300,064 representing 13,879,629 patients. 
9. Losartan
Losartan is an angiotensin receptor blocker (ARB). Doctors use it to treat high blood pressure, heart failure, and kidney disease in people with diabetes. Losartan broke into the top 50 drugs in 2011 and has been rising since. The brand name is Cozaar.
Total prescriptions: 54,815,411 representing 12,690,563 patients.
(Amoxil, Polymox, Trimox, various others), an antibiotic.
Total prescriptions: 15,922,907 representing 12,780,652 patients
11. Gabapentin
Gabapentin falls in the anticonvulsant class of drugs. Along with other medications, it can help control partial seizures in people with epilepsy. It has other neurological uses, including treating nerve pain and restless legs syndrome. Brand names include Horizant and Neurontin.
Total prescriptions: 49,961,066 representing 10,571,700 patients.
(Lasix), a diuretic to treat high blood pressure and fluid retention.
Total prescriptions: 26,786,296 representing 6,405,654 patients
13. Hydrochlorothiazide
(Esidrix, Hydrodiuril, Microzide, Oretic), a diuretic to treat high blood pressure and fluid retention.
Total prescriptions: 41,476,098 representing 10,031,904 patients
14. Sertraline
(Zoloft), an antidepressant.
Total prescriptions: 38,219,814 representing 7,768,366 patients.
15. Simvastatin
(Zocor), a statin drug to treat high cholesterol.
Total prescriptions: 36,600,871 representing 8,557,525 patients.
16. Hydrocodone/acetaminophen
(Lortab, Norco, Vicodin, various others), a narcotic analgesic.
Total prescriptions: 30,100,356representing 8,587,152 patients.
17. Bupropion
(Aplenzin, Wellbutrin, Zyban, various others), treats depression and can help with quitting smoking.
Total prescriptions: 28,889,368 representing 5,801,282 patients.
18. Dextroamphetamine/amphetamine salts
(Adderall), a stimulant for attention deficit hyperactivity disorder (ADHD).
Total prescriptions: 26,080,151 representing 3,633,541 patients
19. Clopidogrel
(Plavix), prevents blood clots.
Total prescriptions: 19,377,527 representing 4,340,688 patients.
20. Alprazolam
(Xanax) a benzodiazepine used to treat anxiety.
Total prescriptions: 16,780,805 representing 3,632,458 patients.
And of course…
There are other medicines that are critical to someone's health and medical condition. Insulin is a good example as well as serious blood thinners like Warfarin (Coumadin) for people with any kind of artificial heart valve replacement or conditions requiring a blood thinner.
People with organ transplants are often dependent on anti-rejection drugs to suppress their immune system. There are a number of conditions all requiring specific and vital medications. How well anyone can keep insulin refrigerated let alone find and stockpile a sufficient amount of these kinds of medications will be a significant challenge. Some natural alternatives can help but that will come with a strong dose of hope.
Another challenge will be the task of essentially self-medicating. If medicines are few and far between there's a good chance doctors and hospitals will be just as scarce. What's critical to understand is not only which medicines work for any condition but proper diagnosis, dosages and side-effects. To manage those possibilities there are some excellent reference books put out by Merck.
Some, like the Merck Index, are dedicated to identifying and explaining prescription pharmaceuticals. Others offer medical advice for diagnosis and continuing treatment. In addition to any effort to assemble medicines for an uncertain future, you should add these manuals to your library.
A Few Words About Antibiotics
Many medical conditions are the result of poor lifestyle choices. Others are the result of a hereditary predisposition or sometimes just bad luck. But one set of conditions can strike anyone at anytime and that's an infection caused by bacteria.
What's alarming is that any time of uncertainty and disruption will have its share of new dangers and challenges. From the simplest cut to a bullet wound, infections continue to be the most widespread threat to the health of any population. Fortunately, antibiotics have been able to cure most infections although antibiotic resistant bacteria continue to emerge.
If there's one set of medicines anyone should try to have on hand at all times it's an antibiotic designed to prevent, halt or cure an infection. Here are the most common classes of antibiotics: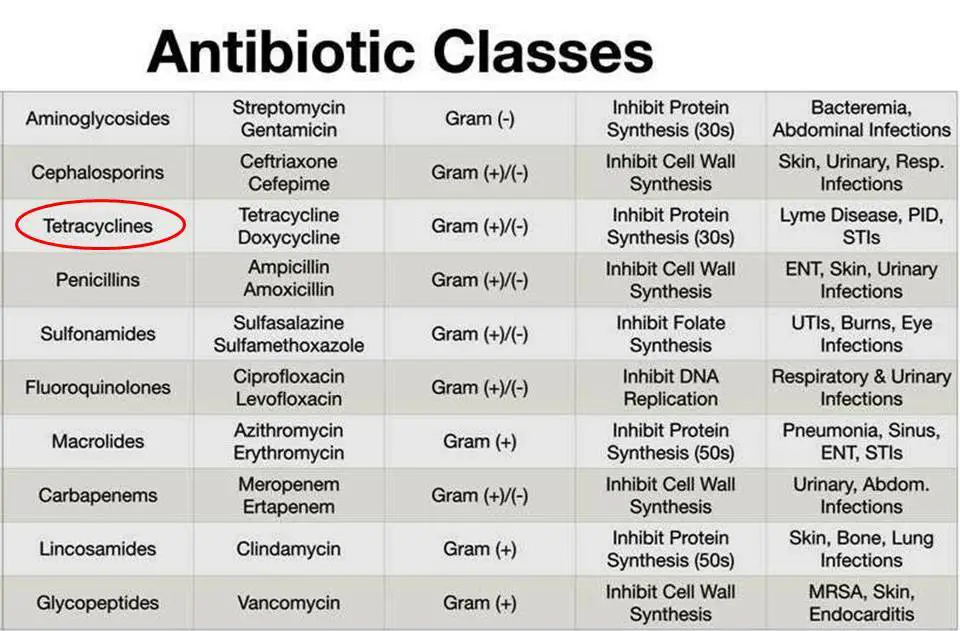 Here again, accumulating a stockpile or excess supply of antibiotics is a challenge. But there's an additional challenge to consider. Medicines have a shelf-life. The Merck Index identifies the average shelf-life for medications and the best storage options.
In most instances, an expired medication will be less effective. However, there are medications like Tetracycline that become toxic after they have expired and can lead to kidney failure. Take the time to understand the best ways to store any medicines you stockpile and pay close attention to expiration dates.
Most medicines simply lose their efficacy but Tetracycline is the dangerous exception.
Building an OTC Stockpile
Stocking over-the-counter medications is easy compared to prescriptions. They also cost less than pharmaceuticals. Many articles have been published on the best OTC's to stockpile but here's a good list to consider. The big question is how much you feel you should buy depending on the size of your family and how long you believe they will be in high demand or simply unavailable.
The value of OTC's is that they can provide relief to conditions untreated with unavailable pharmaceuticals. Aspirin is a blood thinner in addition to working as a pain reliever. Anti-bacterial ointments have antibiotic properties at least on and in wounds. The list goes on.
OTC Basics
Pain Relief
Gastro-Intestinal
Wound Care
Cold and Flu
Skin and Allergic Reactions
Additions
Natural remedies
Finally, there are the natural remedies from the realm of herbal medicines and naturopathic healing. Long before pharmaceuticals this was the only alternative for medical treatments and many of them are supported by credible clinical studies.
Rather than go through an entire overview of natural healing solutions, here are some excellent books on the subject that you will definitely want in your survival library.
Additional Approaches
When you look at the medical landscape in the U.S. one thing becomes apparent: many of the health conditions are caused by obesity, poor diet, lack of exercise and other poor lifestyle choices. At a time without easy access to medications it might be the best time to make some changes for some people. The uncertainty of those times will certainly cause change whether we want it or not.
Life-style changes
This is nothing more than pursuing a more active lifestyle. Exercise is a place to start but in desperate times there will be no doubt a good share of exertion simply getting through the day.
Lifestyle changes also means making decisions about things like smoking, alcohol and other things that are never good for us in excess. At a time when basics like medicines are unavailable it's a good bet that some of those things will be in short supply anyway.
Diet changes
After a collapse many people will turn to gardening and foraging to supplement their diet. That can be a very good change to a diet especially if it means reducing the consumption of highly processed foods loaded with salt, sugars and saturated fats.
It's true that many people will be depending on food storage for their daily diet, but many food storage options have a healthy profile. Like anything else it's all about balancing nutrition and considering how foods and ingredients affect your overall health.
Veterinary meds
Anyone who owns pets or raises livestock will need to consider the need for veterinary medications. Here again, Merck has an excellent manual on diagnosis, dosage and treatment of veterinary conditions.
A quick review of their listings for veterinary pharmaceuticals can give you an idea of what to order. There are online veterinary pharmacies where you can order these meds and veterinary medicines don't require a prescription. They are also less expensive than medications intended for human use.
One extreme possibility related to veterinary medications emerged in a book written by a missionary by the name of David Werner.
It's titled Where There Is No Doctor and he explores and explains how he used veterinary medications to treat people when no other medicines were available. It's a risky proposition that requires extensive research but in desperate times when there are few options it's a possibility worth considering.
Can This Happen?
Based on some of the studies cited at the beginning of this article it already has begun. The best approach may be to carefully monitor the condition of the healthcare system and consider taking some steps to prepare for the worst. A good place to start is with an OTC stockpile and some steps towards understanding and growing natural remedies.
Another step is to consider to what degree to you can stock up on prescription medications and at least become familiar with resources like online pharmacies and veterinary meds. If or when the worst happens you may at least be prepared to take some immediate steps to protect your health and the health of your family. Hopefully it never comes to this but many of the signs are not encouraging.
Thanks for reading! If you're new here, I highly recommend reading this article which explains why civilization is going to collapse. If you want to start preparing, check out our list of free books and manuals and our list of recommended supplies. If you're feeling anxious about collapse, please visit the support page for tips on how to manage your emotions, places where you can get help, and lists of articles and videos on coping with collapse anxiety.