This post may contain affiliate links.* As an Amazon Associate I earn from qualifying purchases. Click here to read our affiliate policy.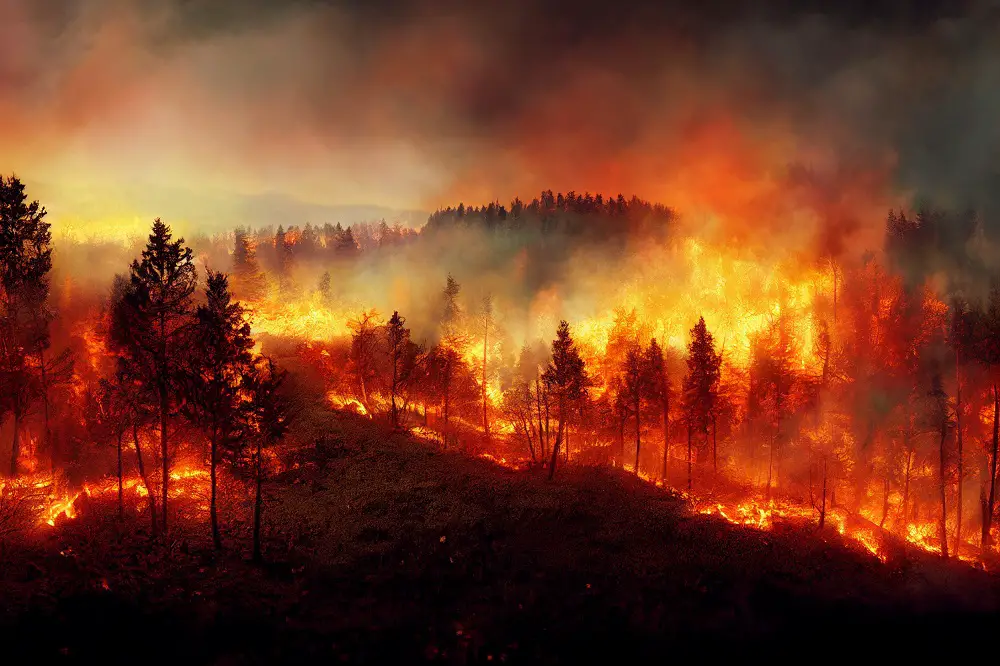 Welcome to the 13th edition of Collapse Catch-Up, a weekly newsletter that catches you up on the latest signs that we are living through the collapse of global industrial civilization.
This week we have news about record-breaking heatwaves in Europe and Asia, massive wildfires in Canada and Russia, sea levels rising faster than expected, bird species in danger of extinction, chaos in Haiti and Sri Lanka, the threat of an economic meltdown, and much more. Let's dive in…
Heatwaves
Over 20 million people are under heat alerts in the northwestern United States and Canada. Temperatures are expected to be as much as 14°C above normal, which means there could be more than 50 high temperature records in the coming days.
Heatwaves like this are breaking temperature records all around the world, especially in Europe and Asia. Vietnam broke several records and reached a new national high of 44.2°C. And in neighboring Laos, the new national is is now 43.5°C. Cambodia had its hottest May day ever at 41.6°C, and Bangkok, Thailand reached a record high of 41°C.
Meteorologists have warned that there will be many more record highs, and that the Asian heatwave is a warning for the world. It was so bad that in the Philippines, officials cut classroom hours after the heat index reached the danger zone.
According to research by the World Weather Attribution group, the record-breaking heatwave that hit the western Mediterranean last month would have been almost impossible without climate change. In fact, the heatwave would have been 100 times less likely to occur in a world without climate change. The report warns that world leaders need to prepare for a hotter world.
The western Mediterranean heatwave caused Spain to have its hottest and driest April on record, with the average daily temperature at least 3°C above average for this time of year. The heat and dry weather are also affecting crop yields, so Spain has requested emergency funds from the EU to support farmers and ranchers.
However, some farmers are getting in trouble for tapping illegal wells in order to grow tropical fruits, such as avocados. Spain is Europe's biggest producer of tropical fruit, which requires large volumes of water. However, farmers are not allowed to use public waters—including wells—without explicit permission.
The drought in southern France is also reaching crisis levels, with a rainfall deficit of 60-65%. To conserve water, regions of France have banned car-washing, garden-watering, and pool-filling, and water for drinking is being prioritized above all other uses.
According to France's Le Conseil national de la transition écologique (the national council for the ecological transition), France must face the reality that the world will likely reach 4°C of global warming. The group also warned that France will be more severely affected than most of the world.
None of this should be surprising considering how much heat we're adding to the planet. According to a new study published in the journal Earth System Science Data, between 1971 and 2020, we trapped as much energy in the atmosphere as 25 billion atomic bombs.
Incredibly, nearly 90% of that energy has been absorbed by the oceans, which explains why they are hotter than ever. Without the oceans serving as a buffer against global warming, civilization probably would have collapsed long ago.
Sea Level Rise
Thanks to all this additional heat in the atmosphere, glaciers are melting and raising sea levels. And according to new research published in Proceedings of the National Academy of Sciences, the Greenland ice sheet may be melting faster than previously thought.
According to the research, melting between the ice sheets and the ocean is much more extensive than previously estimated. The relatively warm ocean water is tearing a massive hole in the bottom of one of Greenland's primary glaciers. The study was done by researchers at NASA and the University of California Irvine, and if they're correct, sea level rise could happen twice as quickly as current models suggest.
According to senior scientist Zita Sebesvari of the Institute for Environment and Human Security, the places most at risk from rising sea levels include Bangladesh, Vietnam, the Nile Delta, the Mekong Delta, the Mississippi; coastal cities such as New York City, Tokyo, Mumbai, and Shanghai; and small island nations in the Pacific, Indian, and Atlantic oceans.
Wildfires
More than 100 wildfires are raging across Alberta, Canada. Officials have declared a state of emergency, and nearly 30,000 people have been forced to leave their homes.
Canada has deployed its military to help fight the wildfires, but unfortunately, a heat dome settling over Canada is likely to make the wildfires even worse. The fires are so bad that millions of Canadians are breathing smoky air, which has spread as far away as Pittsburg, Pennsylvania.
Russia is also dealing with dozens of wildfires covering over 54,000 hectares of land. At least 21 people have died in Russia's Ural mountains, with most of the victims being unable to leave their homes. A state of emergency was declared for the entire region of Tyumen. A state of emergency was also declared in the Kurgan province, where over 5,000 buildings were destroyed.
Wildfires have become a yearly occasion in Russia. Unfortunately, heatwaves linked to climate change are making wildfires larger every year, and due to the war in Ukraine, Russia is running low on able-bodied men who can help fight them.
Smoke from wildfires has a bigger effect on weather patterns than most people realize. According to new research published in Science Advances, the particles emitted from the Australia's "Black Summer" wildfires in 2019/2020 were on par with a major volcanic eruption.
The massive number of aerosols attracted moisture to them, which increased cloud cover and cooled the surface of the ocean. This effect was so large that as the atmosphere cooled, it shifted the tropical rainfall belt northward and helped bring about an unusually long La Niña, which fueled droughts in Africa, hurricanes in the Atlantic, and record flooding.
As wildfires get larger and become more common, the smoke will likely have an even larger effect on weather patterns.
Climate Crisis
According to the US National Oceanic and Atmospheric Administration, there is now a 90% chance that El Niño will occur this summer. As a consequence, we will see even higher temperatures and more extreme weather in the coming years. On the plus side, El Niño could limit the number and intensity of hurricanes hitting the Southeastern United States.
Hundreds of thousands of people are being evacuated in Bangladesh and Myanmar as a powerful cyclone heads toward the two countries. The storm's winds could peak at 220 kph (137 mph), which is the equivalent of a category 4 hurricane. Thanks to warmer waters, cyclones in the Bay of Bengal have been strengthening more quickly as they cross the ocean.
According to data produced by Kayrros for the Guardian, methane leaks from Turkmenistan's two main fossil fuel fields caused as much global heating in 2022 as the total carbon emissions of the United Kingdom. It's a mind-boggling amount of emissions that could easily be stopped by fixing leaky valves and pipes in Soviet-era equipment, but nothing is being done.
The Biden administration has revealed plans to reduce emissions from power plants. Rather than require a large-scale shift from fossil fuels to renewables, the rules rely on new technologies such as carbon capture and low-carbon hydrogen fuel, but power plants won't be forced to do any of these things before 2030. The rules give the power industry time and options for cutting their emissions, but some people argue that we are already out of time.
In the state of Tennessee, lawmakers are codifying misinformation into law. Tennessee Governor Bill Lee recently signed a law that defines natural gas as "clean energy" despite the fact that natural gas only emits about 30% less carbon than oil.
And in France, President Macron has called for a 'pause' in EU environmental regulations. Macron has a plan to "reindustrialize" France, and he doesn't want new regulations to slow it down. He argued that the EU has already done more than the US and China to fight climate change and that it now needs stability.
Pollution
Florida lawmakers passed a bill that would allow the use of radioactive fertilizer waste in road construction. Critics argue that this poses a major health risk to road constructions workers or anyone who drives on a road in Florida, and conservation groups are urging Governor DeSantis to veto the bill.
Why would anyone want to use radioactive waste to build roads? As explained in the article, "Putting radioactive phosphogypsum in roads would let the fertilizer industry off the hook for safely disposing of the millions of tons of dangerous waste it creates each year while generating another cash stream for industry giants."
In London, a mass of wet wipes the size of two tennis courts has formed in the River Thames, changing the course of the river. Many people mistakenly believe that wet wipes are biodegradable, but most of them are made with plastic, which takes much longer to break down. Some lawmakers have proposed a ban on the sale of wet wipes that contain plastic.
According to new research, many soft contact lenses sold in the United States are full of PFAS, otherwise known as forever chemicals. One specific type, called fluoropolymers, is used because it's soft and prevents bacteria growth. No research has been done to determine how much of it is absorbed by the eyes, but some research has linked PFAS exposure to several eye diseases.
A new assessment from the EPA warns that neonicotinoid insecticides are threatening the existence of over 200 endangered plants and animals. Some species at risk include the whooping crane, the Indian bat, the Plymouth redbelly turtle, the rusty patched bumblebee, the Karner blue butterfly, and the American burying beetle. Neonics are banned in the EU but they are still legal in the United States.
Biodiversity Loss
Bird flu (H5N1) continues to ravage bird populations around the world, including endangered species like the California condor. It has already killed millions of birds, which is only exacerbating the ongoing extinction crisis, and there's no end in sight.
Experts from Australia's Invasive Species Council are warning that the country is ill-prepared for an outbreak of bird flu among wild birds. They fear it will drive many species to extinction, straining ecosystems that are already being pushed to the edge.
Bird flu is potentially cause a pandemic among humans as well, and scientists are preparing for that possibility. A bird flu pandemic would likely be far more deadly than the COVID-19 pandemic, so countries need to track mutations of H5N1 and be ready to contain any outbreaks.
Forests are also struggling to survive the sixth mass extinction. According to a study published in in the journal, Proceedings of the National Academy of Sciences, forests in the western U.S. are struggling to adapt to the rapidly changing climate. Over the past 10 years, forests have become dominated by trees that can handle hotter and drier conditions in a process called "thermophilization," but the process still isn't keeping up with the rate of climate change, which continues to accelerate.
In some rare good news, deforestation in the Amazon rainforest fell by 68% in April as President Lula's new policies go into effect. Lula recently decreed six new indigenous reserves covering about 1.5 million acres of land. The decree grants indigenous people exclusive use of natural resources on the reserves, where mining is banned and commercial farming and logging are restricted.
Societal Breakdown
As civilization breaks down, some countries are falling faster than others. In Haiti, thousands of people are fleeing the country due to widespread violence. The government has lost control of many areas, where gangs now rule the streets and terrorize citizens. The U.N. has called for the deployment of an international force to quell the violence, but this won't solve the underlying problem, which runs much deeper.
Sri Lanka is also collapsing due to power cuts and extremely high inflation. And now, public health services are facing a catastrophic breakdown due to shortages of doctors, medicines, equipment, and facilities. Many doctors are leaving the country, and patients are having to wait months or even years for treatment. Sadly, they have nowhere else to turn for help.
First world countries are still a long way from the kind of chaos and violence seen in places like Haiti and Sri Lanka, but there are other signs of societal breakdown. In the United States, insurance companies are developing new pricing models that take climate change into account, and it's causing homeowners insurance to skyrocket in places like Miami and New Orleans.
Some people are selling their homes in order to escape the insurance premiums, which can be as high as $5,000 a year. But the higher the premiums get, the harder it is to sell houses as many would-be homeowners are balking at the high rates. In the long run, entire neighborhoods and even cities will be abandoned as it simply becomes to expensive to insure a home on the coast.
In another grim sign of the times, a new report from the CDC warns that depression and suicide are on the rise among teenagers. It's particularly bad among female teens and LGBTQ+ students, and experts are blaming cyberbullying and the social and political climate. Health professionals are stressing the need for more accessible mental health services for teenagers.
Economy
Jamie Dimon, CEO of JPMorgan Chase, has warned that panic will overtake the markets has the US approaches a possible debt default. Bank executives have been meeting weekly to discuss the problem, and soon they will begin meeting every day. Although Congress has already passed spending bills, House Speaker Kevin McCarthy wants to force cuts, and he's threatening to crash the economy if President Biden doesn't comply.
McCarthy and Biden met last week to attempt reach a compromise, but they made no progress. Biden is insisting on a clean debt ceiling increase, but McCarthy wants to end Biden's student loan debt forgiveness program, undo Biden's already limited climate agenda, and add new work requirements for people receiving federal assistance.
Meanwhile, food banks are seeing a huge surge in demand as grocery prices rise and pandemic aid expires. Over 32 million Americans had their monthly food stamp benefits cut at the end of February, reducing them by about $90 per person. If the U.S. falls into recession this year, as many predict, food banks will likely be stretched to the limit.
Conflict
NATO has warned that Russia is actively mapping gas pipelines and internet cables in Europe and North America. Since Putin hasn't resorted to using nuclear weapons, many fear that instead he will target major infrastructure in order to cause mass chaos. David Cattler, NATO's assistant secretary general for intelligence and security, says that undersea cables carrying 95% of internet traffic are risk. NATO is working on a plan to protect key infrastructure.
Recently, Putin announced a call-up of reservists to military training camps. And last month, Putin signed a law allowing citizens to be drafted through the internet. Russia has faced difficulty forming a large military force due to people fleeing the country and a public that is becoming less enthusiastic about the war.
Still, the war continues. Last week, Russia launched a new attack on Ukraine's capital. 15 cruise missiles were launched at Kyiv, but Ukraine's air defense systems shot them all down. The Ukrainian military says it has broken through the front lines in many different places, but Russia denied these reports and said the situation is under control.
Conclusion
That's all for this week! Let me know if I missed anything or if you have any feedback.
I share this news to remind you that if you haven't started preparing for the collapse of civilization, now is the time to start stockpiling supplies, learning basic skills, and making friends in your local community. As the world falls apart, it's important that we help one another.
If this news made you anxious, please visit this page for a list of resources that can help.
You can also get this weekly newsletter by subscribing on Medium. Until next time,
– Alan
Thanks for reading! If you're new here, I highly recommend reading this article which explains why civilization is going to collapse. If you want to start preparing, check out our list of free books and manuals and our list of recommended supplies. If you're feeling anxious about collapse, please visit the support page for tips on how to manage your emotions, places where you can get help, and lists of articles and videos on coping with collapse anxiety.