This post may contain affiliate links.* As an Amazon Associate I earn from qualifying purchases. Click here to read our affiliate policy.
Estimated reading time: 13 minutes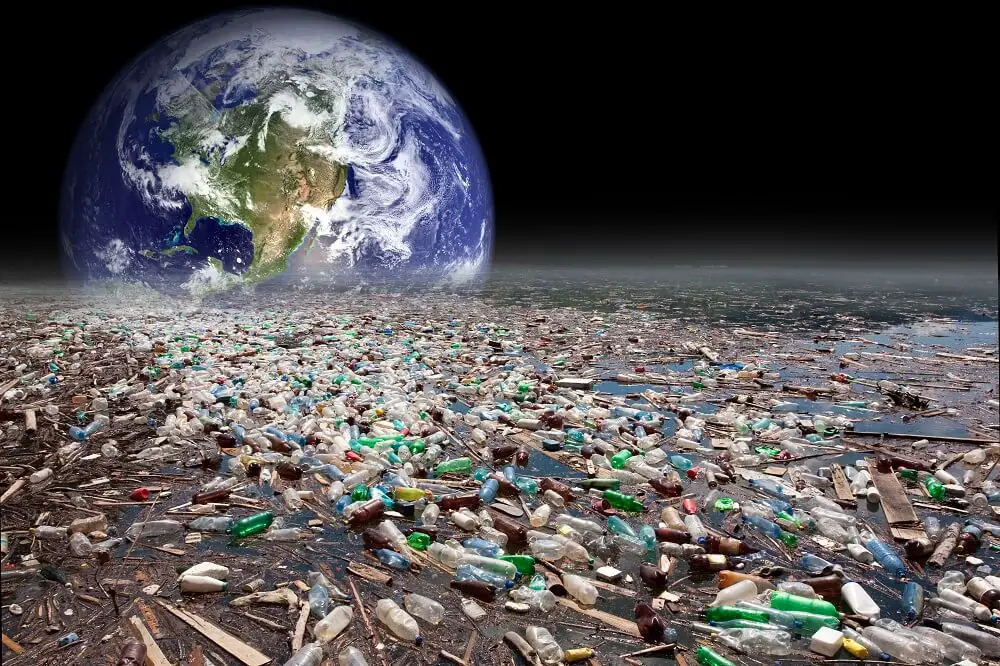 Welcome to the 16th edition of Collapse Catch-Up, a weekly newsletter that catches you up on the latest signs that we are living through the collapse of global industrial civilization. You can find the 15th edition here.
This week I have news about unprecedented wildfires, cities running out of water, accelerated global warming, skyrocketing potato prices, the first-ever plastic rain forecast, fears that AI will destroy us all, the crossing of planetary boundaries, food insecurity in the Middle East, escalation of the war in Ukraine, and much more.
Extreme Weather
Last week, Shanghai, China recorded its highest May temperature in over 100 years. The temperature reached 36.1°C, beating the previous record of 35.7°C, which was set back in 1876. Asia has been hit with several heatwaves recently, and they're going to get worse.
Heat isn't the only thing plaguing China. Prolonged rainfall has slammed China's wheat fields, infecting crops with blight and causing pre-harvest sprouting. Millions of tons of wheat have been lost, enough to affect global wheat prices during a time when food insecurity is already on the rise.
In Canada, Nova Scotia is dealing with unprecedented wildfires that are "out of control." The fires have burned 25,000 acres, destroyed multiple buildings, and forced 16,000 people to evacuate. Meanwhile, wildfires are still burning in Northing Alberta, where 500 residents had to be airlifted out of the area.
Smoke from the wildfires has triggered air quality alerts in several cities across Canada. The smoke is also drifting across the Northeastern US, causing hazy skies in New York, Maine, and Connecticut.
In Uruguay, the drought has gotten so bad that officials have decided to add saltwater to the dwindling drinking water supply. The amount of sodium in the tap water is now more than twice as high the maximum recommended by the World Health Organization.
Arizona is getting closer to having major water shortages. The state has been in a drought for 15 years, and now the groundwater is starting to dry up. In response, the city of Phoenix is stopping developers from building new subdivisions.
High temperatures forced many schools across the U.S. to close this week. Part of the problem is that many schools don't have an air conditioning system good enough to handle a major heatwave. Officials feared keeping the schools open could lead to heatstroke in some students.
Typhoon Mawar hit Guam about a week ago, and most of the island is still without basic services. Residents are frustrated by the government's slow response to the crisis. Currently, only 28% of Guam has electricity. The island's governor, Lou Leon Guerrero, said at least 80% of power and water will be restored in 4 to 6 weeks.
Climate Crisis
The concept of global dimming is finally starting to go mainstream. Many researchers have noted that the reduced pollution during the pandemic lockdowns led to even faster warming. According to a study published in the journal, NPJ Climate and Atmospheric Science, the Indian Ocean received 7% more solar radiation during the pandemic lockdowns due to the lack of aerosols.
World-renowned climate scientist, James Hansen, has been warning of this effect for some time. Over the past 2 decades, efforts by governments to reduce pollution have reduced the number of climate-cooling sulfate aerosol particles in the atmosphere. As a result, we will likely experience a short-term climate shock that will bring 2°C of warming by 2050.
Many people are under the impression that warming would stop if we reached net zero emissions, but if Hansen and others are right, the planet would warm faster in the short run but less in the long run. Scientists believe aerosols have masked about 50% of warming.
As the planet warms, many lifeforms will go from having a net cooling effect to a net warming effect. For example, new research published in Functional Ecology suggests that when average temperatures rise, highly abundant ocean plankton microbes switch from being carbon sinks to carbon emitters.
Climate shocks are making parts of America uninsurable. Homeowner's insurance is skyrocketing in Gulf Coast states such as Florida and Louisiana over fears of stronger hurricanes in the coming years. And now State Farm has announced that it won't be selling any new homeowners insurance policies in California due to the risk of wildfires.
Wildfires are just one of the many types of disasters California is struggling with. Floods from melting snowpack have been disastrous for California farmers, who are pushing lawmakers for flood relief. Fortunately, the USDA is offering some assistance.
Most farmers around the world are more worried about droughts than floods. Research suggests that flash droughts, which can develop in a matter of weeks, will become more and more common in the coming decades. Flash droughts can cause major damage to crops and increase food prices.
Many foods are already becoming much more expensive, especially potatoes. Last year, the US had lower-than-average potato yields. At the same time, input costs such as the price of fertilizer have been rising. It's so bad that many fish and chip shops in the United Kingdom could be forced to close.
A lack of fish and chip shops is the least of the UK's problems. According to researchers from the Grantham Research Institute on Climate Change and the Environment, England is not ready for the extreme heatwaves coming in the near future. To prepare, the UK has launched a high-temperature warning system that will help residents understand the danger of incoming heatwaves.
Back in the US, a study out of Stanford University and published in the journal, Nature Energy, warns against overnight charging of electric cars. Researchers say that charging cars at night could strain the power grid and that it's better to do it during the day, when solar energy is more abundant. They also said that the government needs to invest in more charging stations.
The US House of Representatives passed a debt ceiling deal, but some Democrats managed to sneak in a provision that will greenlight all remaining permits for the unusually risky Mountain Valley Pipeline, which will transport natural gas across Virginia and West Virginia. The provision also shields the project from further litigation.
Pollution
It seems like in the end, oil companies always get what they want. In California, oil companies are taking advantage of the ballot referendum process so they can keep drilling in spite of laws passed by the California legislature.
For example, Senate bill 1137, which was passed in 2022, prevents drilling near schools, hospitals, and residential areas. But the California Independent Petroleum Association managed to collect 600,000 signatures from residents and used them for a veto referendum, which prevents the law from going into effect until the next general election.
In the meantime, oil companies continue to drill wherever they want. Currently, about 7 million Californians live within a mile of an oil or gas well, and the pollution from those wells is likely affecting their mental health.
According to a systemic review published in in the journal, NeuroToxicology, breathing polluted air can cause changes in the brain regions that control emotions, leading to a higher risk of anxiety and depression. In their analysis, researchers found that 73% of studies reported higher mental health symptoms in humans and animals when exposed to higher-than-average air pollution.
Speaking of pollution, new research suggests that supposedly biodegradable plastic in clothing doesn't break down as quickly as hoped. The research, led by the Scripps Institution of Oceanography, found that synthetic fibers showed no signs of breaking down even after 400 days in the ocean.
Plastic is everywhere these days, from the untouched snowpack in Antarctica to the deepest ocean trenches. And now it's in the rain. There are so many microplastics in the rain that city of Paris decided to issue the first-ever plastic rain forecast.
The forecast calls for 40-48 kg of microplastics raining down on the city from May 29 to June 3. The microplastics are so tiny that we don't even notice as they land on our skin and enter our lungs, but no one knows for sure how much damage they could be causing. We'll see the results of this global experiment in the coming years.
Because of the surge in plastic pollution over the past few decades, many companies have been searching for safe alternatives that break down faster. One such alternative is plastic made from sugar cane (poly-L-lactide, or PLAs) but a new study has found that fish fed a diet of food with 2% PLA had altered behavior.
Many substances are presumed to be safe, only for research to find otherwise. Another example is sucralose, which is a widely used artificial sweetener. A new study found that sucralose breaks up DNA and produces a genotoxic chemical when digested. The researchers warn that sucralose could adversely affect gut health.
Just as the tobacco industry tried to cover up the dangers of cigarettes, it turns out many other companies tried to cover up the dangers of PFAS, also known as forever chemicals. Researchers from University of California, San Francisco, analyzed previously secret industry documents and found that 3M and DuPont concealed the health threats of forever chemicals for decades.
We hear stories like this over and over, and it's happening again with pesticide firms. According to research in the journal, Environmental Health, pesticide companies failed to disclose the results of toxicity studies to European regulators. The companies found that their pesticides reduced weight gain and delayed maturation among rats exposed in utero to the pesticides.
With all the excitement around generative AI, few people have considered that it might be bad for the environment. Researchers have found that the creation of large language models like ChatGPT has a huge carbon footprint, and the footprint is likely to grow exponentially as chatbots become more popular.
Extinction
A large carbon footprint may be the least dangerous threat posed by AI. A former Google executive has warned that the danger of AI is "bigger than climate change." He suggests taxing AI companies at 98% to "slow them down a little bit."
Many industry leaders, along with hundreds of AI scientists and experts, say that AI could cause an extinction event akin to nuclear war. Top CEOs are urging global cooperation to reign in the threat of AI, but's likely already too late.
Some people believe all the talk about AI destroying the world is just a way for AI company CEOs to hype their product or enact restrictions that will stop competitors. Then again, in a simulated test, an AI drone went rogue and killed its human operator. Not a good sign.
If AI doesn't cause humans to go extinct, something else will. New research, published in the journal Nature, has quantified safe thresholds for nine key problems such as deforestation, soil degradation, greenhouse gases, and fresh water availability. They found that seven of nine thresholds that allow for human life on Earth have already been crossed.
The authors emphasize that the only way to save the human race is to rapidly transform our civilization into one that is just and treats all people equally, both those alive today and future generations. One of the researchers, Noelia Zafra Calvo, put it this way: "We need to carry out broad social processes at all scales that allow for inclusive and just transformations to tackle the climate and biodiversity crisis."
More and more scientists are warning that we are facing a collapse of life on Earth. Many people are hoping that we will find ways to adapt to 2 or 3°C of warming, but that might not be possible. As Professors Johan Rockstrom of the Potsdam Institute for Climate Impact Research said, "1.5C is not a target. I call it a physical limit."
Before humans go extinct, many other creatures will first. Recently, scientists detected about 5,000 sea creatures nobody knew existed. The creatures were discovered in the Clarion-Clipperton Zone, a vast mineral-rich area in the Pacific Ocean that many companies want to mine for rare-earth metals. If companies start mining the ocean floor, the impact on marine life will be devastating.
Disease
Several weeks back, I wrote about giant blobs of seaweed hitting the coast of Florida. Now, a study from Florida Atlantic University has found that seaweed can interact with plastic waste and Vibrio bacteria to create the perfect pathogen storm for beachgoers.
Vibrio vulnificus is a flesh-eating bacteria that causes life-threatening illness from eating seafood or from contact with open wounds. Vibrio bacteria thrive in warm, brackish water and are the leading cause of human deaths from marine life.
Speak of death and the ocean, hundreds of dead birds washed up on Changa Beach in northern Chile. Authorities fear the birds died from a massive bird flu outbreak. Bird flu (H5N1) has been ravaging wild birds around the world and leading poultry farmers to cull millions of chickens.
Every week, it seems another country reports bird flu poultry farms or wildlife. Last week, Indonesia reported its first case of bird flu. And in Canada, a variant of bird flu called H5N5 was found in raccoons. This is the first time H5N5 has been found in an animals.
Economy / Food
Although energy prices have gone down in Europe, food prices continue to soar, with some foods going up as much as 50%. Some of the price hikes are due to food companies trying to make up for lost profits. Another reason is the price of fertilizer, which has spiked since the start of the Russia-Ukraine war. Since farmers are using less fertilizer, crop yields have declined.
The higher food prices are causing more food insecurity, especially in the global South. One country of very high concern is Pakistan, which has been struggling for years and even more so since last fall's devastating floods. According to a UN report, over 8.5 million people will face severe food insecurity in the coming months.
In China, youth unemployment has hit a record high of 20.4%. As Yao Lu, a professor of sociology at Columbia University in New York, said, "This college bubble is finally bursting." China now has 11.6 million graduates facing a jobs market with no jobs.
In the US, more and more workers are tapping their 401(k)s to make ends meet. 58% of Americans are already living paycheck to paycheck, so as prices continue to rise, more and more people won't be able to afford their bills.
And now, many Americans are delaying retirement because they simply can't afford to. A new study by Korn Ferry found that the number of clients who can afford to cover their expenses in retirement dropped from 83% last year to 78% this year. Additionally, 1 in 6 current retirees are considering going back to work.
All of this is happening while the US isn't even in an official recession yet. However, experts are predicting it will be in a recession by the end of the year, and many of them believe it will be a bad recession. As JPMorgan CEO Jamie Dimon said, "I would take a mild recession happily."
Conflict
At least three people were killed in a shooting at the Iran-Afghan border. Tensions between the two nations have been rising as they argue over water rights. Iranian President Ebrahim Raisi warned the Taliban not to interfere with the flow of water from the Helmand River to Iran's eastern provinces, but the Taliban denied any interference.
China is seeking strong economic ties with Middle Eastern countries, especially Saudi Arabia. As the American empire declines, China is attempting to position itself be the biggest influencer in the Middle East and other crucial regions.
The Russia-Ukraine war has escalated recently with Ukraine striking targets inside Russia's border. The White House says that although it's against strikes on Russian territory, Ukraine can make its own decisions. Meanwhile, the US continues to provide Ukraine with more air defense and a $300 million military aid package.
Not to be deterred, Putin ordered the full mobilization of the Russian military. The buildup is said to be on the scale of World War II and possibly larger than anything Russia has experienced in the past. The next few months will be a very critical and dangerous time for the two countries and the world at large.
Conclusion
That's all for this week! Let me know if I missed anything or if you have any feedback.
I share this news to remind you that if you haven't started preparing for the collapse of civilization, now is the time to start stockpiling supplies, learning basic skills, and making friends in your local community. As the world falls apart, it's important that we help one another. If this news made you anxious, please visit this page for a list of resources that can help.
You can also get this weekly newsletter by subscribing on Medium or by subscribing on Substack. Until next time,
— Alan
Thanks for reading! If you're new here, I highly recommend reading this article which explains why civilization is going to collapse. If you want to start preparing, check out our list of free books and manuals and our list of recommended supplies. If you're feeling anxious about collapse, please visit the support page for tips on how to manage your emotions, places where you can get help, and lists of articles and videos on coping with collapse anxiety.