This post may contain affiliate links.* As an Amazon Associate I earn from qualifying purchases. Click here to read our affiliate policy.
Estimated reading time: 15 minutes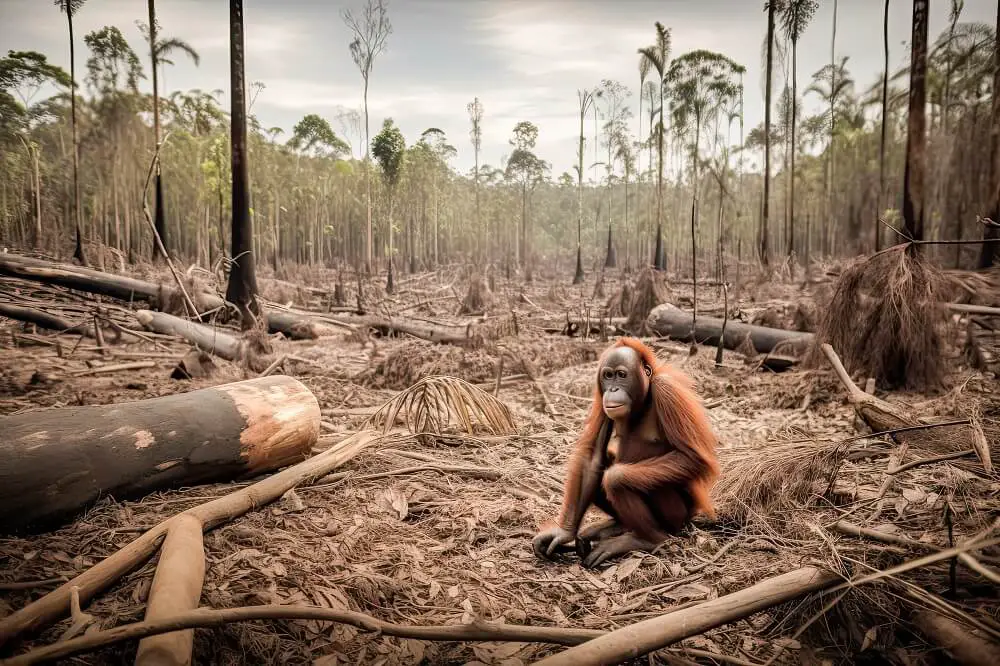 Welcome to the 15th edition of Collapse Catch-Up, a weekly newsletter that catches you up on the latest signs that we are living through the collapse of global industrial civilization. You can find the 14th edition here.
This week we have news about wildfires destroying millions of hectares, droughts reducing crop yields, climate protests ending with arrests, deregulation leading to more pollution, research that proves were in the sixth mass extinction, the rapid spread of bird flu, bad news for the world economy, and signs we're inching closer to World War III. Let's dive in…
Extreme Weather
Typhoon Mawar has left a trail of destruction in Guam, and now it's headed for the Philippines. With maximum sustained winds up to 185 mph and gusts up to 210 mph, Mawar is the most powerful storm on Earth in more than two years.
We're likely to see more storms like this later this year as ocean temperatures have been at record highs for over 2 months. As pointed out in this tweet, there were record high sea surface temperatures, record high air temperatures, and record low sea ice extent all on the same day. And now it's happened three days in a row.
Asia is still enduring a series of heatwaves, especially Sir Lanka, where temperatures have been rising faster than the global average at about 1.8°C per decade. Chad has also been hit hard, too, with a new all-time high temperature of 48°C.
Other places experiencing unusually warm weather include Norway, South Africa, Costa Rica, and the tropical islands. It's likely we'll see even more record high temperatures in June.
Drought is arguably a bigger problem than heatwaves, and Uruguay is in an historic drought that has left the capital reservoir nearly empty. The drought has affected crops and caused terrible losses for local farmers.
The Western U.S., which has been in the worst megadrought in 1200 years, had a surprisingly wet winter. Many mountain ranges are still covered with snow, and people are hopeful that wildfire season will be delayed or less severe than usual.
However, experts are warning that vegetation could dry out very quickly this summer and that the West could still have terrible wildfires later this year. In fact, insurance giant State Farm is obviously expecting a bad wildfire season as it has halted sales of new home policies in California.
Wildfires have been sweeping across Canada this month, destroying some 1.6 million hectares. And now, the smoke from the fires has caused hazardous air quality and reduced visibility in many parts of Canada and the United States. According to the Canadian Interagency Forest Fire Centre, the fires will likely get even worse.
Spain is also dealing with wildfires after an historic drought. A wildfire in southwest Spain has burned at least 7,500 hectares of land, forcing the evacuation of over 500 people. Apparently, the fire was started on purpose, and strong winds are making it difficult for firefighters to control the blaze.
Australia is in even more danger from wildfires. The recent three-year period of cooler and wetter weather has dampened the country's wildfire risk, but it has also led to prolific vegetation growth, which has been called a powder keg for future fires. Firefighters fear the next two years could bring widespread fires and are warning local governments to start preparing.
Climate Crisis
Scientists from the University of Exeter in the UK, as well as teams from several other countries, are warning that climate change could force as many as 1 billion people to migrate by the end of the century. Places like Pakistan and Indonesia will simply become too hot to live in during the summer.
The study, published in the journal, Nature Sustainability, also warns that as many as 2 billion people could be exposed to unprecedented temperatures and extreme weather by 2030. As the planet warms, billions of people will be driven out of the climate niche in which humans have lived for millennia.
A great example is Phoenix, Arizona. According to a study published in the journal, Environment Science and Technology, if the power grid in Phoenix failed during a heatwave, nearly 800,000 residents, or roughly half the population of Phoenix, would require medical care for heat-related illnesses.
It's a stark example of how dependent we are on the power grid. Without air conditioning, many cities around the world in uninhabitable. The researchers found that a similar scenario in Atlanta would send nearly 12,000 people to the ER, but the number of heatstroke victims could be vastly reduced by planting more trees and installing highly reflective roofs.
The extreme heat is bringing droughts with it, especially in the Middle East. According to UN authorities, droughts have dried up 90% of Iraq's water. If this trend continues, Iraq will only be able to meet 15% of its water needs by 2035. The lack of water is likely to bring more conflicts to the Middle East. In fact, Iran and the Taliban are already fighting over water rights.
Back in the U.S., California, Arizona, and Nevada have reached a landmark deal to cut at least 3 million acre-feet of water through 2026, which represents about 10% of the states' Colorado River allocation. The plan still needs to be finalized after a federal environmental review by the Department of Interior.
Despite the megadrought, water is still being wasted on things like fracking. According to a report by the nonprofit group, FracTracker Alliance, Colorado energy companies have doubled their use of high-quality water for fracking over the past 10 years, with average volumes per individual well quadrupling over the same period. FrackTracker Alliance called Colorado's standards governing water use for fracking "incredibly wasteful."
Meanwhile, farmers in Kansas are abandoning their wheat crops after a severe drought significantly reduced yields. Some farmers are intentionally spraying wheat fields with crop-killing chemicals and claiming insurance payouts, betting that they'll get more money that way than by harvesting whatever wheat is left.
U.S. potato production is also down, dropping for the fourth year in a row and resulting in the smallest crop since 2010. This is part of the reason potato prices are at an all-time high. A report by RaboResearch suggests potato prices will go down next year as farmers start planting more of them.
However, if wildfires continue burning across the western U.S. and Canada, the smoke could cause potato farmers to have lower yields. According to a joint study by University of Idaho and Boise State University, smoke exposure is linked to smaller and misshapen potatoes. Researchers are hoping to find more smoke-resistant potato varieties.
Lettuce is also in trouble. Last year, a combination of heat, drought, and blight caused lettuce to vanish from stores in Canada, which imports most of its fresh produce from California. This year, flooding from atmospheric rivers and unusually cold weather is pinching lettuce supplies again. To combat the problem, some Canadian farmers are looking to grow crops indoors for a homegrown supply of vegetables, but the transition is slow and costly.
According to a study by the American Geophysical Union, more than half of U.S. communities are basing their long-term preparations for coastal flooding on numbers that underestimate future sea level rise. The researchers found that local assessment reports are assuming less sea level rise than predicted by the IPCC, which is also lowballing estimates. It means many new homes and structures will end up being flooded in the coming decades.
Climate Debate
Climate activists disrupted the Shell annual shareholder meeting by singing and shouting, causing the meeting to be delayed. Last year's meeting was also delayed by several hours because of similar protests. Institutional shareholders have been increasingly vocal about the need for Shell to address climate change.
The Dutch campaign group, Follow This, drafted a resolution that would require Shell to adopt more stringent climate targets and achieve specific emissions reductions by 2030. Unfortunately, about 80% of investors voted against the resolution, choosing short-term profits over the long-term habitability of planet Earth.
According to a new study published in the journal, One Earth, the world's largest fossil fuel companies owe at least $209 billion per year in climate reparations to compensate the communities most damaged by their polluting business model and decades of lies. The researchers warn that the largest polluters—including Shell, BP, ExxonMobil, and Chevron—will cause an estimated $5.4 trillion in climate catastrophes between 2025 and 2050.
Chevron claims it is offsetting some of its greenhouse gas emissions by purchasing carbon offsets, but research by Corporate Accountability reveals that 93% of their offsets are too environmentally problematic to be anything other than junk offsets. Almost half of these junk offsets are linked to social and environmental damage, mostly in the global south.
In some rare good news, the French government has unveiled plans to reduce its greenhouse gas emissions by 50% by 2030 compared to 1990 levels. The plan includes specific targets for sectors such as transport and households, and it aims to align with the EU's target for 2030.
The German government is taking a different kind of action. Authorities have conducted nationwide raids against members of The Last Generation climate activist group, searching 15 properties as part of an investigation into a fundraising campaign that allegedly raised €1.4m ($1.5m) to finance non-violent crimes such as blocking traffic. The prosecutor's office in Munich launched a preliminary investigation into 7 defendants accused of supporting a criminal organization.
Back in the United States, the state of Montana has passed a law that prohibits state agencies from considering climate change when permitting large projects that require environmental review, including coal mines and power plants. The law was proposed after 16 young plaintiffs sued the state for violating their right to a "clean and healthful environment" as guaranteed by Montana's constitution. Apparently, Montana lawmakers have decided their constitution doesn't apply to young people.
Climate scientists are increasingly leaving Twitter for other social media platforms due to an explosion of hatred and misinformation since Elon Musk took over last year. Researchers have documented a surge in climate denialism, leading to scientists suffering insults and mass-spam. According to a lead scientist at the environmental data analysis group, Berkeley Earth, the average number of likes a climate scientists' tweets received was down 38% since last year.
Even at this late date, with high temperature records being broken every week and mountains of scientific research, half of Americans still don't believe humans are causing climate change. A new Ipsos polled found that only 49% of Americans believe humans are causing climate change. Thanks to the politicization of climate science, it is unlikely that these numbers will change any time soon, even as climate disasters get worse and worse.
Pollution
Last week, the U.S. Supreme Court voted 5-4 to limit the EPA's power to regulate wetlands under the Clean Water Act. The decision is a win for Michael and Chantell Sackett, who bought property in Idaho but were prevented from building a home by the EPA. Sadly, this will open the door for far more pollution and destruction of wetlands, which are critical for biodiversity.
In Chile's Atacama Desert, a pile of unused fast fashion has grown so large that it can be seen from space. The clothes were manufactured in China and Bangladesh, sent to stores in the US, Europe, and Asia, then brought to Chile when they weren't sold. At least 39,000 tons of clothes have accumulated so far, and they can't be sent to municipal landfills because they aren't biodegradable and contain dangerous chemicals.
Several sports bra and athletic wear brands have been found to contain high levels of BPA, according to the Center for Environmental Health. BPA has been linked to health problems such as asthma, obesity, and cardiovascular disease. Testing showed that the clothing could expose wearers to up to 40 times the safe limit of BPA.
An international team of scientists has found that recycling plastic can release huge quantities of microplastics. The study, which was published in the Journal of Hazardous Material Advances, found that plastic recycling plants are discharging 75 billion plastic particles per cubic metre of water. Microplastics have been accumulating very quickly for the past few decades, being found in deep ocean trenches and untouched landscapes in Antarctica.
Biodiversity
According to a new study published in the journal, Biological Reviews, global loss of wildlife is significantly more alarming than previously thought. The study analyzed 70,000 species across the globe, including mammals, birds, reptiles, amphibians, fish, and insects, and found that 48% of the species are declining in population size, with a mere 3% seeing increases.
The main cause of the decline is the destruction of wild landscapes to make way for roads, cities, and farmland. Climate change is also a major factor driving the loss of wildlife as the average global temperature rises too fast for most species to adapt. Scientists say this is the beginning of the sixth mass extinction event.
Leaving room for nature and halting climate change are the only things we can do to stop this mass extinction event. Many argue that to stop climate change, we need to build more renewables and electric vehicles. However, doing so requires destroying ecosystems to mine rare-earth metals.
Brazil sits on about 16% of known reserves of rare-earth metals, but accessing most of them would require tearing down parts of the Amazon rainforest. So should Brazil destroy the Amazon to save the climate? Or would killing the "lungs of the earth" only make the problem worse? We're at a point where there are no good options left (except for degrowth).
Disease
The World Health Organization has warned governments that they need to prepare for a disease even deadlier than Covid-19. Addressing the WHO's annual health assembly, Dr Tedros urged nations to "advance negotiations on preventing the next pandemic." Since Covid-19 was likely leaked from a lab, we are still overdue for a major pandemic, and governments are ill-prepared.
One possible source of the next pandemic is bird flu (H5N1), but vaccine researchers are warning that if bird flu spreads to people, existing vaccines may be inadequate. Current vaccines were derived from older strains of bird flu and may not offer enough protection against the current strain. Researchers are developing new shots that could be easily updated to target whatever mutated strain spreads to humans someday, but it will take time.
So far, bird flu has killed 56% of humans of humans who contracted it and nearly all birds that have contracted it. And now, bird flu is spreading among several types of mammals. About 25 types of mammals died in the latest bird flu outbreak, which is much more than in previous outbreaks. H5N1 has been detected in mammals in 14 countries, and the more mammals it infects, the greater the threat it is to humans.
Japan is attempting to stay ahead of the crisis by stockpiling 10 million vaccines for its citizens. Japan's Health Ministry believes it's highly likely that bird flu will transmit among humans in the near future.
Brazil has declared an animal health emergency over bird flu after confirming 8 cases of bird flu in wild birds. The 180-day measure is aimed at preventing the virus from spreading to domesticated birds and commercial poultry farms. Brazil is the world's biggest chicken exporter, supplying about 35% of all poultry on the international market.
Meanwhile, countries are still dealing with the Covid-19 pandemic. China is bracing for a new wave of Covid infections thanks to the latest omicron variant, XBB. Respiratory disease specialist Zhong Nanshan has estimated that China could see up to 65 million Covid-19 cases per week by the end of June. The Chinese government is rushing to boost its vaccine arsenal with new immunizations specifically targeting XBB.
Although the Covid-19 pandemic is officially over, it is still killing at least one person every four minutes. Since many people now feel the pandemic is over, they aren't bothering to get vaccinated or wear masks during local outbreaks. This is leading to more and more variants, and the WHO has warned that a more deadly variant could emerge in the near future.
Economy
Although the EIA has predicted that US shale production will continue to rise until the end of 2024, there are signs that production is already slowing, and some experts are warning of a rapid decline in the coming years. As the U.S. shale boom comes to an end, the price of oil will rise, and economic growth will slow.
According to research from Dartmouth University, El Niño could end up costing the world economy about $3 trillion. El Niño is expected to bring higher temperatures, bigger storms, and worsening droughts which will damage infrastructure and lower crop yields. A report from the UN following the last El Niño found it responsible for 10 million hectares of lost cropland, and this one is likely to be worse.
A survey by LendingTree found that 27% of Americans are using buy now, pay later (BNPL) loans to cover basic expenses. The survey also found that 21% of people who get BNPL loans have used them to purchase groceries.
Currently, President Biden and Republicans are negotiating over the debt ceiling. Although Congress already passed a spending bill last year, Republicans are threatening to stop the U.S. Treasury from borrowing more money to meet its existing obligations. If this happens, it would be a disaster for the world economy.
However, some people believe Biden wants to make cuts and that all of this is political theater.
Geopolitics
The Russia-Ukraine war continues unabated. Last week, the head of Russia's Wagner mercenary force said it lost 20,000 fighters in battle, Russian missiles hit a hospital in the city of Dnipro, and the President of Belarus said Russia is moving tactical nuclear warheads into his country for storage.
Now, Ukraine is warning that Russia plans to simulate an accident at a nuclear power plant. The idea is to stop a long-planned Ukrainian counteroffensive to retake the territory. Last February, Russia said Ukraine was going to stage a nuclear incident and pin the blame on Moscow, but no such attack ever materialized.
Russia continues to deepen its economic ties with China. Russia's Prime Minister, Mikhail Mishustin, met with Xi Jinping to sign bilateral pacts to further investment and trade. Unfortunately, all of this is hurting China's relationship with the U.S., which continues to encircle China.
According to a study published in the Journal of Contemporary China, 55% of Chinese citizens support a full-scale war to take control of Taiwan. The nationwide survey of 1,824 people showed that respondents were in favor of "launching a unification war to take back Taiwan entirely".
Microsoft warns that Chinese hackers have attacked critical U.S. infrastructure. The Chinese hacking group, known as "Volt Typhoon," has operated since 2021 and are working to disrupt "critical communications infrastructure between the United States and Asia," according to a statement by Microsoft Threat Intelligence. The attack is apparently ongoing.
Conclusion
That's all for this week! Let me know if I missed anything or if you have any feedback.
I share this news to remind you that if you haven't started preparing for the collapse of civilization, now is the time to start stockpiling supplies, learning basic skills, and making friends in your local community. As the world falls apart, it's important that we help one another.
If this news made you anxious, please visit this page for a list of resources that can help.
You can also get this weekly newsletter by subscribing on Medium. Until next time,
— Alan
Thanks for reading! If you're new here, I highly recommend reading this article which explains why civilization is going to collapse. If you want to start preparing, check out our list of free books and manuals and our list of recommended supplies. If you're feeling anxious about collapse, please visit the support page for tips on how to manage your emotions, places where you can get help, and lists of articles and videos on coping with collapse anxiety.