This post may contain affiliate links.* As an Amazon Associate I earn from qualifying purchases. Click here to read our affiliate policy.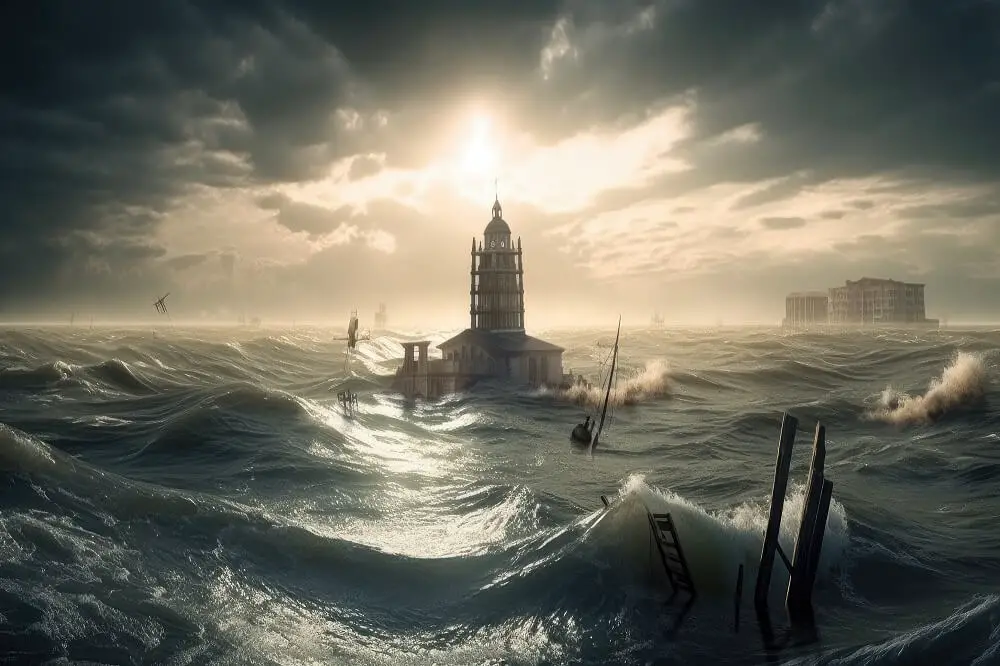 Welcome to the 14th edition of Collapse Catch-Up, a weekly newsletter that catches you up on the latest signs that we are living through the collapse of global industrial civilization.
This week we have news about catastrophic floods in Italy and Somalia, lakes drying up faster than expected, the planet approaching 1.5°C of warming, Biden breaking his climate promises, people struggling to afford food, signs that we're in the worst mass extinction event in Earth's history, and much more. Let's dive in…
Extreme Weather
Catastrophic floods in Italy have left at least 14 people dead and forced 13,000 people to leave their homes. Heavy downpours caused rivers to overflow, leading to flooding in at least 36 towns. Some areas received as much as 20 inches of rain (half the average annual rainfall) in just 24 hours. Paride Antolini, president of the geologists' guild of Emilia-Rom, called the rainfall "unprecedented".
The flooding in Italy is relatively minor compared to the flash floods in Somalia, where 250,000 people were forced to flee their homes after heavy rain caused the Shabelle River to break its banks. Somalia is suffering from its worst drought in 4 decades, so most people were caught off guard by the flooding, but long droughts can actually make flooding worse.
Speaking of droughts, Southern Europe is bracing for a summer of drought. The lack of rainfall has already depleted groundwater reserves, leaving the soil in Spain bone dry. As the climate disaster worsens, it will turn Spain into a desert.
Southern France is also struggling with drought, and it's causing tempers to flare as people in the Pyrénées-Orientales have been banned from washing their cars and filling their pools. The agriculture minister has warned that these bans could extend to the entire nation.
Currently, the French government is planning on constructing new reservoirs, but ecologists argue that these will only encourage intensive farming and stock water above ground where it evaporates. Activists clashed with riot police over the issue, arguing that the reservoirs will benefit big agriculture at the expense of local farmers.
According to a study published in the journal, Science, droughts around the world are causing lakes to lose water faster than expected. The researchers analyzed about 250,000 satellite images of nearly 2,000 lakes and reservoirs, and they found that 53% of them lost significant amounts of water over the last three decade and continue to lose trillions of gallons every year. At least half of the decline is due to climate change and human water consumption.
The United States is dealing with droughts, as well. Years of dry weather have taken a toll on America's breadbasket, and now farmers are expected to harvest a mere 67% of their planted crops. If this happens, it will be the lowest harvest ratio since 1917.
Wildfires continue to rip across Canada as the Pacific Northwest heatwave shatters records. About 90 wildfires continue to burn in Alberta, and nearly 20,000 people have been displaced. The brutal heatwave is due to an omega block, and experts are predicting an unusually hot and smoky summer.
According to new research published in Environmental Research Letters by the Union of Concerned Scientists, fossil fuel companies and cement manufacturers are to blame for at least 1/3 of the West's wildfires.
Rising Temperatures
Of course, all of this is just the beginning. The United Nations is warning that there is 98% chance that 2023-2027 will be the hottest five-year period on record. As a result, global warming is likely to cross the 1.5°C threshold sooner than expected due to the return of El Niño. In fact, NASA is already detecting signs of El Niño from space.
While some people will claim that the higher temperatures are because of El Niño and not climate change, the truth is that greenhouse gases are making the ENSO cycle more extreme. A new study by researchers at CSIRO found that over the past 60 years, stronger El Niños and La Niñas have become far more common, and that trend is expected to continue.
Meanwhile, the world's oceans continue to heat up "very, very, very fast." In March, sea surface temperatures off the east coast of North America were as much as 13.8°C higher than the 1981-2011 average. This has sparked fears that the ocean heat bomb has been ignited.
Part of the reason for the sudden rise in ocean temperatures is the phasing out of "bunker fuel" in seagoing vessels. This cheap and dirty fuel was causing health problems in humans, so it was replaced with cleaner fuel in 2020. However, the bunker fuel released aerosols into the air which increased the Earth's reflectivity. Without these aerosols, more sunlight is reaching the ocean's surface, heating it up even faster.
Climate Crisis
Recently, the Biden administration broke another climate promise by financing an Indonesian oil refinery. As Collin Rees, United States Program Manager at Oil Change International, said, "This approval shows the United States is committed to doing the fossil fuel industry's bidding in all corners of the world. This dirty refinery would threaten the air, land, and water of communities in Indonesia, making a mockery of Biden's purported commitment to environmental justice."
Biden isn't the only one breaking promises. According to a new report, the UN Sustainable Development Goal targets are way off track, with only 12% on course to meet the 2030 deadline. Leaders love to talk about how they're going to protect the environment, but they rarely follow through.
Asset managers are also breaking promises. According to research by the Carbon Tracker Initiative, more than 160 funds with a green label held $4.6 billion in 15 oil and gas companies. Many people invest their pensions in these funds, believing the money won't be used for fossil fuels, but oftentimes that simply isn't true.
An oil giant known as Occidental Petroleum Corp. is making plans to suck carbon from the atmosphere, which would be great, except they're doing it so they can keep pumping oil. Occidental is taking advantage of the tax incentives in Biden's climate package to finance up to 45% of their new direct-air capture systems.
Their plan is to sell carbon-dioxide removal credits to companies such as airlines and trucking companies so they can claim a lower carbon footprint. Occidental also plans to sell what they call "net-zero oil," allowing customers to ease their conscience.
Many people are putting their hopes in carbon capture technology, but this technology brings an unexpected danger. The CO2 has to be moved through pipelines to places where it can be sequestered, but if one of the pipelines bursts, it can displace oxygen in the surrounding air.
This is exactly what happened in Satartia, Mississippi, where 45 locals were hospitalized after losing consciousness due to a lack of oxygen in the air. As more companies start sucking CO2 out of the air, incidents like this are likely to happen again.
Shell is embarking on a new project that involves using AI technology to find more oil beneath the ocean and boost offshore oil output. Some activists are hopeful that advancing AI will help us find solutions to climate change, but it is likely that most companies will use AI to make the climate crisis even worse.
In Wisconsin, a Native American tribe is attempting to shut down an oil pipeline over fears that it could rupture and pollute reservation land. U.S. District Judge William Conley said he is unlikely to order the closure of the pipeline, which is owned by Enbridge.
After being hamstrung by the Trump administration, the EPA is introducing all sorts of new climate rules, from carbon emission limits for power plants to regulations on toxic drinking water. The rules are being called the toughest ever. However, these rules could easily be overturned by the next administration.
Pollution / Biodiversity
When it comes to the environment, the United Kingdom is moving in the opposite direction, with plans to repeal about 600 EU laws by the end of the year. Some of the legislation being removed protects habitats, regulates fisheries, and prevents toxic pollution. You can view the full list here.
A report from the World Bank calculates the value of the Amazon rainforest at $317 billion. However, it also says the Amazon is worth 7 times that much if it's preserved due to its crucial role in helping to regulate the global climate. Sadly, the Amazon may have already passed its tipping point.
Representatives from hundreds of companies and businesses will meet in Paris, France later this month to work on an historic treaty to reduce plastic pollution. According to a report by the UN Environment Programme (UNEP), plastic pollution could be reduced by 80% by 2040 if companies reduce, reuse, and recycle plastic waste.
However, critics say the report doesn't fully acknowledge the health and environmental effects of plastic pollution. And now, scientists and NGOs (non-governmental organizations) are accusing UNEP of silencing the voices of those most affected by plastic pollution. Due to last-minute restrictions on the number of NGOs that can attend, people from developing countries will not be adequately represented.
Plastic pollution is a significant threat to biodiversity, so the upcoming talks are incredibly important. According to a new study published in Current Biology, biodiversity loss could lead to widespread ecological collapse.
When a species goes extinct, there are usually other species that can perform the same function and fill the niche. But when too many species go extinct, it can create a chain reaction that causes entire ecosystems to break down. The researchers found that this is what happened before The Permian-Triassic mass extinction, also known as "The Great Dying."
Dr. Yuangeng Huang, who was participated in the study, said, "We are currently losing species at a faster rate than in any of Earth's past extinction events. It is probable that we are in the first phase of another, more severe mass extinction."
Society
In the United States, rates of depression have reached a new high, with 17.8% of adults reporting that they're currently experiencing depression. Rates of clinical depression were already increasing before the pandemic, but since then, they've been rising even faster.
Many people are depressed because of how COVID-19 disrupted their lives. Covid is causing long-term health problems in many people, including young people. For those suffering from long-covid, the pandemic is far from over. Unfortunately, the fragmented healthcare system isn't helping, and many are being told that their symptoms are "just anxiety."
Over in the United Kingdom, record numbers of people aren't working due to ill health. According to data from the ONS (Office for National Statistics), a record 2.5 million people aren't working due to health problems. The number of people with long-term health problems has been spiking ever since the pandemic began.
Employers are finding the solution to the labor shortage problem in AI. As a result of automation, many white collar jobs are disappearing and may never return. While AI may help companies become more efficient, it will likely be disastrous for the labor market.
AI could also be disastrous for elections. Now that advanced AI is available to everyday people, anyone can generate fake pictures or fake videos of election candidates and spread them around the internet. Experts are worried that this technology will mislead voters and change the outcome of elections.
Economy
According to the latest Household Pulse Survey by the US Census Bureau, nearly 40% of American adults struggled to make ends meet over the last month, which is up from 34.4% at the same time last year. As a result, Americans are not paying down their credit cards like they normally do in the months after Christmas, which is a bad sign for the economy.
Now that pandemic aid has expired in the United States, demand at food banks is skyrocketing. The Food Bank of Contra Costa and Solano, for example, has gone from serving 175,000 per month to 350,000 per month.
Food banks in Toronto have seen a 50% jump in demand since last year as food prices continue to rise. And in the United Kingdom, demand is so high that food banks have been forced to buy groceries to make up for shortages.
Poverty is on the rise in Australia as well. The Salvation Army surveyed 1,700 people who use its services and found that 93% are struggling to afford basic items. Of households with children, 75% were living below the poverty line.
Of course, it's not just English-speaking nations that are a seeing a drop in living standards. People all around the world are feeling the pinch. In Argentina, inflation is at a 30-year high, so the central bank raised interest rates to 97% in an attempt to get spiraling prices under control.
More and more countries are going deeper into debt in order to keep their economies running. According to the Institute of International Finance (IIF), global debt topped $300 trillion in the first quarter of 2023. Emerging markets owe more than ever, with total debt surpassing $100 trillion in the first quarter, for a record high of 250% of GDP.
Many poorer countries are relying on loans from China, and the payments are pushing them to the brink of collapse. Countries such as Kenya, Laos, Mongolia, and Pakistan have been using more than a third of government revenue just to pay off foreign debt. Many experts predict that unless China forgives loans to poor countries, there could be a wave of defaults, economic crises, and political upheavals.
In another sign that the US dollar will eventually lose its status as the world reserve currency, Venezuelan President Nicolas Maduro has announced that his country will abandon the US dollar in cross-border transactions. Similar measures have already been announced in Argentina and Brazil.
Conclusion
That's all for this week! Let me know if I missed anything or if you have any feedback.
I share this news to remind you that if you haven't started preparing for the collapse of civilization, now is the time to start stockpiling supplies, learning basic skills, and making friends in your local community. As the world falls apart, it's important that we help one another.
If this news made you anxious, please visit this page for a list of resources that can help.
You can also get this weekly newsletter by subscribing on Medium. Until next time,
— Alan
Thanks for reading! If you're new here, I highly recommend reading this article which explains why civilization is going to collapse. If you want to start preparing, check out our list of free books and manuals and our list of recommended supplies. If you're feeling anxious about collapse, please visit the support page for tips on how to manage your emotions, places where you can get help, and lists of articles and videos on coping with collapse anxiety.