This post may contain affiliate links.* As an Amazon Associate I earn from qualifying purchases. Click here to read our affiliate policy.
Estimated reading time: 9 minutes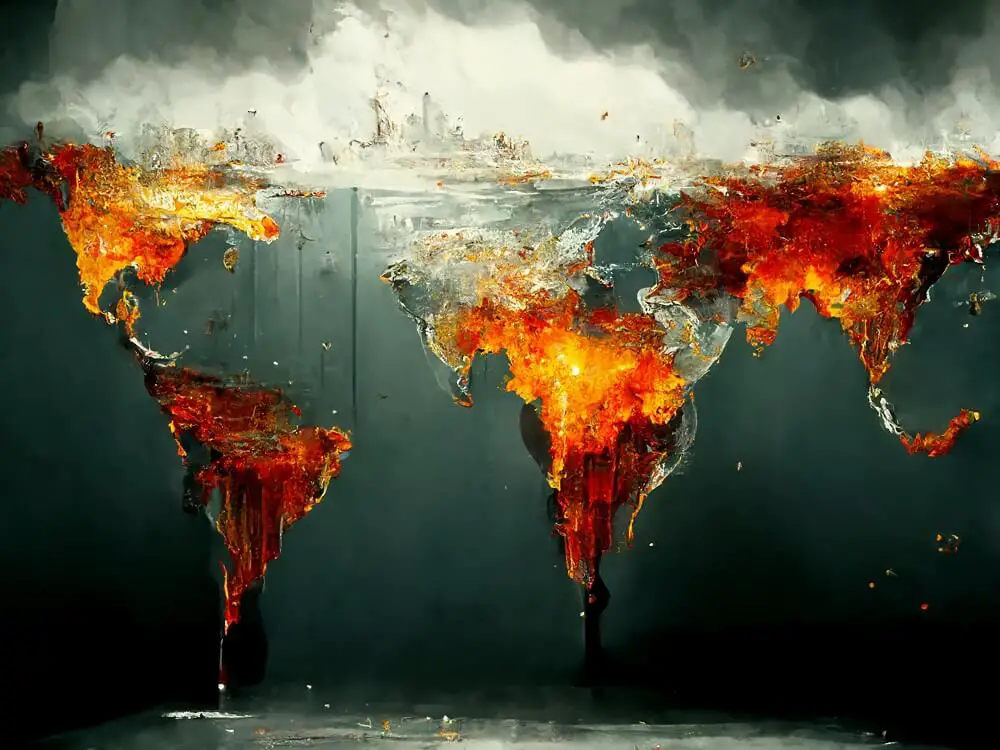 Welcome to the 12th edition of Collapse Catch-Up, a weekly newsletter that catches you up on the latest signs that we are living through the collapse of global industrial civilization. (You can read the older editions here.)
This week we have news about record high temperatures, dangerous storms, more oil drilling, deadly diseases, bank failures, AI-related job losses, and increasing tensions between the U.S. and Russia. Let's dive in…
Extreme Weather
Last week there were record high temperatures in several countries around the world including Laos, Thailand, and Vietnam, which had it's hottest May day ever at 43.1°C.
Although sea surface temperatures have declined slightly, they're still much higher than usual. But when you consider that since 1971, global warming has trapped as much heat as 25 billion nuclear bombs, it's not very surprising.
A massive heatwave is hitting Northern Canada, where temperatures are reaching 32°F, about 13 degrees above average for this time of year, and it's going to get worse. Thousands of people in Alberta were forced to evacuate due to wildfires, which is extraordinary for this time of year.
As climate change affects the jet streams, their behavior is becoming more erratic. In this case, the jet stream went South over the Western United States, then North into Canada above a huge heat dome, then South again, bringing historic snowfall to West Virginia.
A major dust storm caused a 72-vehicle pileup, 37 injuries, and 7 deaths in the state of Illinois. The storm was triggered by freshly-plowed fields and high winds. As droughts get worse and the soil dries up, we will likely see more dust storms like this in the future.
The Mississippi river has gone from record low water levels last year to record flooding this year due to rapidly melting snowpack in Minnesota. Residents of Davenport and Buffalo, Iowa, along with several other cities, have been forced to evacuate.
Speaking of flooding, both Rwanda and Uganda experienced heavy rain and landslides that killed at least 136 people. Uganda has been experiencing unusually wet weather since late March.
The UN is warning that El Nino is likely to bring record temperatures and food shortages to places around the world over the next few years. The WMO (World Meteorological Organization) estimates an 80% chance that El Nino will arrive by the end of September.
This is happening at a time when food insecurity is already on the rise, going from 193 million people in 2021 to 258 million people in 2022, according to the UN. Higher temperatures will only make it worse.
Spain has already been dealing with record high temperatures from a heatwave that would have been impossible without climate change. The high temperatures are exacerbating a drought which began last year. The lack of water is causing an existential crisis for local farmers, one of whom said, "If the weather does not change it will be zero. Nothing is going to be harvested."
Climate Crisis
Last month, climate activists were outraged when the Biden administration approved the infamous Willow Project. Now, Biden's team has approved a new $40-billion dollar project called Alaska LNG, which will extract natural gas from Alaska's north slope.
Despite calling climate change an existential threat, Biden continues to approve multiple drilling projects. According to Lukas Ross, program manager at the environmental advocacy group Friends of the Earth, "Alaska LNG is a carbon bomb 10 times the size of Willow."
Currently, the Biden administration is attempting to create rules that would force U.S. corporations to disclose information about their greenhouse gas emissions. Apparently it's okay to emit greenhouse gases, as long as you're transparent about it. Naturally, the rules face strong opposition from companies.
Biden is also attempting to persuade Congress that cryptocurrency mining should be taxed at 30%. His administration is arguing that since cryptomining uses a lot of energy from fossil fuels, it should be taxed and the money should be used for green initiatives.
It would make more sense to tax fossil fuel companies, which are seeing huge profits. The oil giant BP, for example, reported strong profits of $5 billion for the first quarter of 2023. However, it is unlikely their taxes will go up any time soon.
Speaking of profits, a new report from CAAD (Climate Action Against Disinformation) reveals that Google has been monetizing videos that promote climate disinformation as recently as this month. This is in spite of Google's promise that it would no longer allow ads on videos that deny the scientific consensus on climate change.
According to research by Common Wealth thinktank, many funds that are supposed to be for green investment are actually going into fossil fuels. Fund managers BlackRock, State Street, Legal & General, and others have been using funds marked with the "environment, social and governance" (ESG) label to invest in fossil fuels.
Last week, a report by Global Efficiency Intelligence found that 11 chemical plants in China and 1 in the United States are emitting the greenhouse gas, nitrous oxide, in amounts so large they collectively equal emissions of 31 million vehicles. Apparently, there are no rules in place to stop or minimize these emissions.
And finally, a YouGov survey in 7 European countries found that while citizens would like their governments to take more action against climate change, they were less supportive of measures that would effect their lifestyles.
For example, while government subsidies to make homes more efficient were very popular (86% in Spain to 67% in Germany), measures like eating less meat and having fewer children have little support (19% in Italy and 10% in Germany).
It's a reminder that while it's correct to blame governments and fossil fuel companies for the climate crisis, the vast majority of ordinary people are to blame as well.
Biodiversity Loss
Fossil fuel drilling in the Alaska isn't just bad for the climate, it's also bad for animals that live in the area. A new study published in the Journal of Avian Biology looked at 17 years of bird-nesting data in Alaska, and it found that nest survival rates near oil and gas infrastructure were significantly lower due to noise, air pollution, and other disturbances.
According to a study published in Nature Ecology & Evolution, glacier retreat in the Alps is threatening the biodiversity of invertebrates in the area. As the planet warms and the glaciers disappear, creatures such as midges are losing their habitat and could go extinct.
Speaking of extinction, the last known female Swinhoe's Softshell Turtle has died. As far as we know, there are only two males left, which means the species is functionally extinct.
Another threat to biodiversity is the countless number of microplastics. About 91% of plastic isn't recycled, but even when it is, it still gets into the environment. According to a new study, when plastic makes it to a recycling center, it can still break into smaller pieces that end up in the air and water.
Florida coastal communities are dealing with red tide again. Red tide is a phenomenon where toxic algae blooms and grows exponentially, killing fish and make the surrounding air difficult to breathe. Although the blooms are naturally occurring, they are supercharged by human waste and agricultural runoff that makes its way to the ocean.
Disease
The World Health Organization has declared that Covid-19 is no longer a global health emergency, but that doesn't mean the pandemic is over. Covid-19 is here to stay, it's a causing long-term health problems in millions of people.
It looks as though the most likely cause of the next pandemic is bird flu (H5N1). More than 50,000 birds in the UK were killed by avian flu, which is twice the previous estimates. Bird flu has been killing other animals as well, including a cat, a grey seal, and several endangered condors.
At least 100 million birds in the United States and Europe have been culled to stop the spread of bird flu, and more are being culled every week. Poultry suppliers have been moving their free-range flocks indoors in order to protect them.
Agriculture officials in the Biden administration are testing four vaccines that they hope will stop the bird flu pandemic. The goal is a to launch of national vaccination campaign which would be the first of its kind. Without a vaccine, poultry and egg prices are likely to stay very high for the foreseeable future.
Another threat to the global food supply is fungal attacks. Climate change is exacerbating crop-destroying fungi, allowing it to move farther North as the planet warms. Worldwide, farmers lose between 10% and 23% of their crops to fungal disease, and it's only going to get worse.
Economy / Society
The banking collapse of 2023 is officially worse than 2008, according to some metrics. Collectively, the three banks that have collapsed this year had more assets than the 25 that collapsed in 2008.
Although some officials say this isn't a system-wide problem like what happened in 2008, others are still worried that the banking "cancer" could spread to otherwise healthy firms. In fact, many on Wall Street believe the banking crisis isn't over. Some argue that half of America's banks are potentially insolvent.
The latest wave of AI is already having an impact on the labor market. IBM is planning to lay off thousands of employees and replace them with AI, and this is just the beginning. AI will likely replace countless jobs over the next few years, and it is quite possible that an entire generation is training for jobs that won't exist anymore.
Geoffrey Hinton, a computer scientists who has been referred to as the "godfather of AI", has decided to quit Google and warn humanity about the dangers of AI.
He fears that in the short run, people will "not be able to know what is true anymore" because of fake articles and pictures generated by AI. He also believes that in the long run, AI could destroy humanity, which is why the threat is even more urgent than climate change.
According to a report in the May 2 issue of the Journal of the American Medical Association, emergency room visits by young people for mental health crises spiked from 2011 to 2020. It's a sign that the world we've created is incompatible with human well-being.
Conflict
The country of Haiti has been in a state of collapse for a line time now, verging on anarchy as armed gangs take over neighborhoods and even cities. Recently, people have been banding together to fight back against the gangs. Haiti could be a preview of what life will be like in first-world countries in the coming decades.
Last week, there was a drone attack on Moscow's Kremlin citadel in an apparent attempt to kill President Vladimir Putin, who remains unharmed. Ukraine President Zelensky denies Ukraine sent the drones, but Russia says the U.S. and Ukraine are behind the attack.
Recently, the U.S. and Ukraine have begun to wire Ukraine with radiation sensors in order to detect nuclear blasts and verify the attacker's identity. It's a sign that the U.S. believes the use of nukes is a real possibility.
According to U.S. intel, Putin has given up on conquering all of Ukraine and is now focused on preventing Ukraine from joining NATO. Some fear that he would go as far as using nuclear weapons to prevent that from happening.
Conclusion
That's all for this week! Let me know if I missed anything or if you have any feedback.
I share this news to remind you that if you haven't started preparing for the collapse of civilization, now is the time to start stockpiling supplies, learning basic skills, and making friends in your local community. As the world falls apart, it's important that we help one another.
If this news made you anxious, please visit this page for a list of resources that can help.
You can also get this weekly newsletter by subscribing on Medium. Until next time,
— Alan
Thanks for reading! If you're new here, I highly recommend reading this article which explains why civilization is going to collapse. If you're skeptical of climate change, read this article about why I reluctantly changed my mind.
If you want to start preparing, check out our list of free books and manuals and our list of recommended supplies. If you're feeling anxious about collapse, please visit the support page for tips on how to manage your emotions, places where you can get help, and lists of articles and videos on coping with collapse anxiety.