This post may contain affiliate links.* As an Amazon Associate I earn from qualifying purchases. Click here to read our affiliate policy.
Estimated reading time: 9 minutes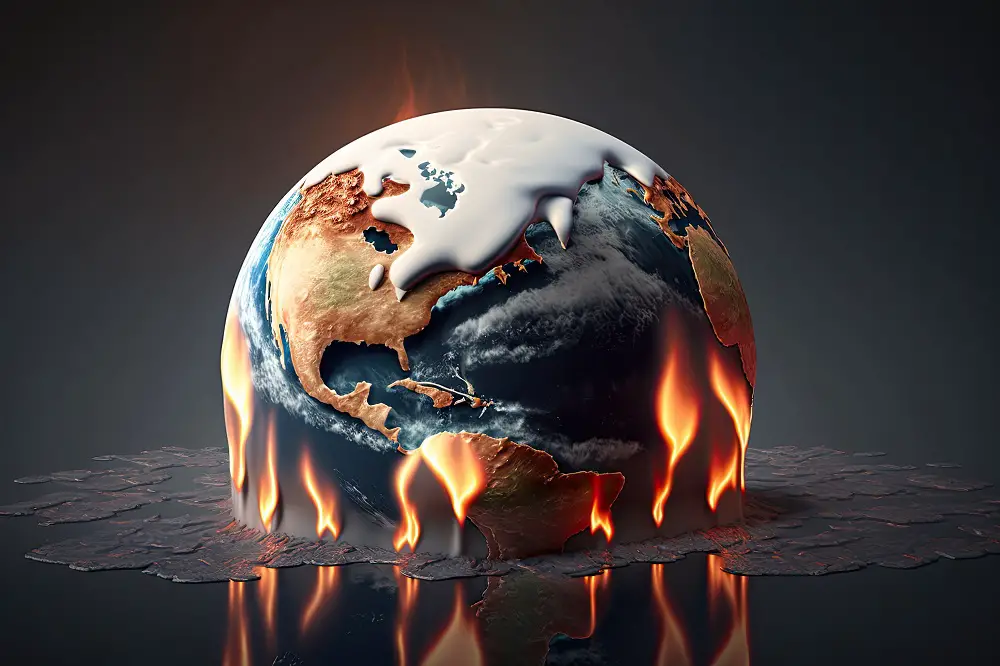 Welcome to the 20th edition of Collapse Catch-Up, a weekly newsletter that catches you up on the latest signs that we are living through the collapse of global industrial civilization. You can find the 19th edition here.
This week I have news about widespread heat waves, declining crop yields, failed climate goals, rapidly melting ice sheets, the danger of forever chemicals, ecosystems collapsing faster than expected, and much more. Here we go…
Heat & Fire
Texas continues to bake under a record-breaking heat wave that las lasted for weeks. Several cities have hit or surpassed 110°F, making Texas one of the hottest places on Earth. The rate of emergency visits for heat-related conditions is up 30% from last year, and there have been at least 13 deaths. But that's not nearly as bad as Mexico, where the heat has caused over 100 deaths.
The historic heat wave has led to an all-time record demand for energy as people crank up their air conditioners. The heat heave is expected to get even worse, and now it's spreading to other states across the US including New Mexico, Louisiana, Arkansas, and Oklahoma. Officials fear the heat will cause energy shortages across 2/3 of North America.
Technically, this heat wave could have happened even if there were no climate change, but scientists calculate that climate change made the heat wave five times more likely, and they know exactly how. As the Arctic warms, the jet stream is becoming more unstable. It's gotten so chaotic that it looks like a Van Gogh painting, and this has allowed the development of a heat dome over Texas and Mexico.
The wildly undulating jet stream is also partly responsible for the worst wildfire season in Canadian history. Over 250 wildfires have already burned a total of 20 million acres, releasing over 600 million tons of carbon dioxide. Smoke from the wildfires has blanketed the Great Lakes region and has reached as far as Europe.
Of course, North America isn't the only part of the world getting slammed with heat waves. In Spain, heat waves have become so common and severe that last year, the city of Seville launched a heat wave naming and ranking system. Currently, they're languishing under the second named heat wave, which is called Heat Wave Yago.
Many other countries are seeing record high temperatures, including India, Morocco, Russia, and China.
Food Security
In China, the heat and drought are so bad that crop yields for wheat, corn, and soybeans will likely be lower this year. While there's too little rain in northern China, there's too much rain in southern China, where the wet weather is taking a toll on rice production.
In the US, Kansas is experiencing its worst drought in a decade, and the lack of rain is threatening the US wheat supply. According to estimates from the US Department of Agriculture, Kansas' winter wheat crop could be the smallest since the 1960s.
Here's another threat to food production. In Alberta, temperatures have been so much higher than usual that grasshoppers are thriving this year. Unfortunately, they're eating all sorts of crops including oats, rye, and barley.
Yet another threat to food security is warmer oceans. According to a study published in Nature Sustainability, 90% of global aquatic food supplies are at risk from climate change, which is horrifying considering that over 3 billion people rely on seafood for protein.
Climate Crisis
Sea surface temperatures are still at a record high, and have been for over three months now. At the same time, Antarctic sea ice is at a record low. Unfortunately, when it comes to the ocean, most people are paying more attention to the Titan submersible.
Meanwhile, greenhouse gas emissions are still rising. Many people are putting their hopes in renewables, but according to the Statistical Review of World Energy report published by BP, growth in renewables had no effect on fossil fuel dominance last year. Although use of renewables grew by 1% last year, fossil fuels remained at 82% of global energy use.
A report by the Climate Change Committee in the UK warns that progress on net zero goals is worryingly slow. The report says, "A key opportunity to push a faster pace of progress has been missed. Time is now very short to achieve this change of pace."
Despite climate disasters getting worse every year, governments continue to approve more drilling for fossil fuels. Norway, for example, just approved $18 billion in oil and gas investments. And in the UK, pension funds have invested billions in fossil fuel firms.
Instead of simply leaving fossil fuels in the ground, countries are looking for other ways to mitigate climate change. Right now, the EU is looking into blocking out the sun as a way to slow climate change. Scientists fear this could have unintended consequences, such as changing rain patterns, so they've called for an international non-use agreement.
Another way countries are dealing with rising temperatures is to buy more air conditioners. In British Columbia, the government is planning on spending $10 million on AC units for those who can't afford them. While this will certainly help more people survive future heat waves, it will also lead to more emissions, and AC units won't do much good if a climate disaster knocks out the power grid.
The activist group, Just Stop Oil, is working hard to raise awareness of our predicament. Activists threw orange paint at the headquarters of Total Energies, last week. The Metropolitan Police arrested four people on suspicion of criminal damage.
Although China emits more greenhouse gases than any other nation, they're still making progress on renewables. According to a report by the China Electricity Council, in the first quarter of 2023, solar installations increased by 33.7% year over year, while coal only increased by 1.8%.
According to a new study published in the Journal of Hydrometeorology, there's been a significant decline in snow cover in the Northern Hemisphere over the last half century. As a result, less sunlight is being reflected back into space, so the surface is absorbing more heat.
And even more disturbing study suggests that the Greenland and Antarctic ice sheets are more vulnerable to climate warming than previously thought. Scientists have found that hairline cracks in the ice are being forced up by meltwater, damaging the ice sheet from the inside and causing it to melt faster. Since the IPCC hasn't taken this behavior into account, it is likely that they are seriously underestimating future sea level rise.
Pollution
In Southern Montana, a train carrying asphalt and molten sulfur derailed when a bridge over the Yellowstone river collapsed. Officials aren't sure whether the derailment caused the bridge to collapse, or whether the bridge collapsed because of the weight of the train. However, given that US infrastructure has been deteriorating for years, it seems more likely that the bridge failed.
A cleanup effort is still underway, and the train's operator, Montana Rail Link, says it is unlikely that the hazardous materials made it very far downstream. Preliminary testing of water and air quality suggests there is no sign of threat to the public, but it's only a matter of time before another training carrying hazardous materials derails.
A new study published in Environment International finds that children exposed to "safe" levels of certain air pollutants are showing signs of hindered brain development. This suggests that the EPA's standards aren't strict enough. As Marianthi-Anna Kioumourtzoglou, an associate professor at Columbia's School of Environmental Health Sciences, said, "We need to protect children's brains because that's their future."
Meanwhile, Republicans are hard at work creating loopholes for PFAS polluters. PFAS, also known as "forever chemicals," are linked to all sorts of health problems including heart disease and cancer. However, new bills being considered by Congress would shield companies from liability if the EPA chooses to PFAS as hazardous substances. This could open the door to even more pollution.
Disease
Five cases of malaria have been detected in the United States, four in Texas and one in Florida. This marks the first time there's been local spread of malaria in the US since 2003. This is something climate scientists have been predicting for a long time. As the planet warms, the geographic range of malaria-carrying mosquitoes will spread farther North.
Officials continue to keep a close eye on the spread of bird flu (H5N1) in both wild bird and animal populations. Recently, 16 cats died of bird flu in Poland in just one week. The most likely explanation is that they've been eating birds or rats with H5N1, but several of them were indoor cats.
Scientists say they've identified a gene that stops humans from being infected with bird flu. The gene, known as BTN3A3, is expressed in the airways, and has been shown to stop the avian flu virus from making copies of itself. This news has been celebrated by many, but it should be noted that about 50% of H5N1 strains currently circulating are resistant to BTN3A3.
Biodiversity
According to new research published in Nature Sustainability, many ecosystems around the world could collapse much sooner than expected. Currently, over 20% of the world's ecosystems are in danger of a regime shift—for example, changing from rainforest to savannah, or from savannah to desert.
The researchers used computer models to determine how ecosystems react to changes in circumstance. When they took into account the changing climate along with stresses humans are already putting on ecosystems, they found that most ecosystem tipping points were 80% closer than previously thought.
In other words, ecosystems that weren't supposed to collapse until the end of the century could collapse in the next few decades. A great example is the Amazon rainforest, which could transition to a savannah-like ecosystem as soon as 2039.
Despite pledges made at COP26 to stop deforestation, countries continue to clearcut their forests, burning the trees for energy and using the land for raising cattle or growing monoculture crops. According to data compiled by the World Resources Institute, an area of rainforest the size of Switzerland was lost in 2022.
In the European Union, they're not even pretending to care about the environment anymore. Last year, the European Commission proposed the Nature Restoration Law, which would require countries to restore 20% of land and sea by 2030, and all areas in need of restoration by 2050. Unfortunately, the EU Committee rejected the proposed law.
Future of Collapse Catch-Up
Due to time constraints, I've decided to change Collapse Catch-Up from a weekly newsletter to a monthly newsletter. From now on, I will publish it on the first of every month. It will probably be a good bit longer than the weekly newsletters, and it will cover all the most important collapse-related stories from the previous month.
I apologize to those of you who look forward to this newsletter every week, but I'm already very busy, and it takes a long time to gather and summarize all this information. On the plus side, I'll have more time to write articles like this one, where I cover current events but also include more of my own opinion and analysis. Thanks for understanding.
Conclusion
That's all for now! Let me know if I missed anything or if you have any feedback.
I share this news to remind you that if you haven't started preparing for the collapse of civilization, now is the time to start stockpiling supplies, learning basic skills, and making friends in your local community. If this news made you anxious, please visit this page for a list of resources that can help.
You can also get this newsletter by subscribing on Medium or Substack. Until next time,
— Alan
Thanks for reading! If you're new here, I highly recommend reading this article which explains why civilization is going to collapse. If you want to start preparing, check out our list of free books and manuals and our list of recommended supplies. If you're feeling anxious about collapse, please visit the support page for tips on how to manage your emotions, places where you can get help, and lists of articles and videos on coping with collapse anxiety.