This post may contain affiliate links.* As an Amazon Associate I earn from qualifying purchases. Click here to read our affiliate policy.
Estimated reading time: 12 minutes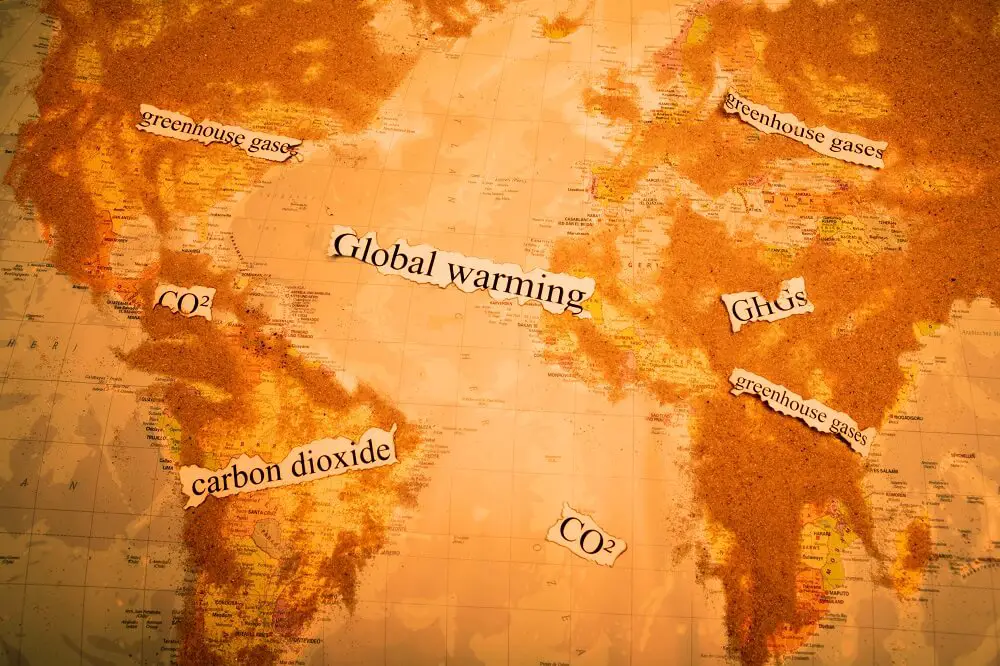 Welcome to the 19th edition of Collapse Catch-Up, a weekly newsletter that catches you up on the latest signs that we are living through the collapse of global industrial civilization. You can find the 18th edition here.
This week I have news about record-breaking heatwaves, water shortages affecting crop yields, the ongoing battle against wildfires, evidence that microplastics are harming our health, deadly viruses becoming more widespread, ecological tipping points arriving sooner than expected, nuclear threats from Russia, and much more. Here we go…
Heat
Summer has officially arrived, bringing warmer weather to the northern Hemisphere, but this year is different. This year, global warming has entered uncharted territory, with the average global temperature temporarily breaching 1.5°C in the hottest June on record, and El Niño hasn't even fully arrived.
This week, Mexico sweltered under a killer heat wave, with several cities setting new high temperature records. Thanks to a wobbly jet stream, a heat dome settled over Mexico and Texas, and it's expected to stay for a full week.
In Texas, the heat wave smashed many all-time records. It's so hot in some places that people are able to bake cookies on their dashboard. The Texas power grid operator urged citizens to conserve energy as the increased use of AC is straining the grid and causing power prices to jump 100%. There have already been several power outages across the Southern US, and it's likely to get worse.
India also got hit by a brutal heat heat wave, and this one claimed the lives of over 100 people. Days of sweltering heat led to power cuts, which led to heatstroke victims overwhelming local hospitals.
Heat waves also happen in the ocean, and currently there's an unprecedented heat wave in the waters around the UK and Ireland. Sea temperatures in the region are smashing records, going 3 or 4C above normal for this time of year. Scientists fear the heat increase could have a devastating effect on marine species.
Sea surface temperatures in the North Atlantic have been way higher than usual, and scientists aren't entirely sure why. They also don't know what effect it will have on Arctic sea ice and the AMOC, but we'll soon find out.
Water Shortages
According to climate scientists, global warming is advancing faster than expected in Europe. The continent is warming faster than most of the world, with its average temperature already 2°C above the pre-industrial baseline.
The warmer weather in Europe has brought drought with it, especially in Southern Europe. Lawmakers are calling for more action to preserve and improve the region's water resources. According to a report published by the WMO and the Copernicus Climate Change Service, the heat and drought is going to get much worse.
In Asia, the Himalayan glaciers are melting faster and could lose 80% of their volume if global warming isn't stopped. Nearly 2 billion people in more than a dozen countries rely on the Himalayan glaciers not just from drinking but for watering their crops. Once the glaciers melt, there is no substitute.
In the US, multiple states have declared drought watches or emergencies. In Pennsylvania and several other states, officials are asking residents to voluntarily conserve water until the drought is over.
In Illinois, the drought is making farmers worry about this year's harvest. And in Michigan, farmers are expecting a loss in yield of 25-30%. Fears over low crop yields are causing crop futures to surge across the board.
Meanwhile, researchers are designing a new drought-resistant rice. Since we're apparently not going to stop burning fossil fuels, we're going to attempt to adapt in other ways, like this. However, no matter how much scientists tinker with rice DNA, a plant can only take so much drought.
Farmers are making up for the lack of rainfall by pumping groundwater up from the Ogallala Aquifer, but this is a stopgap measure that won't last. A report from the High Plains Underground Water Conservation District shows that water levels have been dropping every year. Once the aquifer is gone, the agricultural industry in Texas and the Midwest will be doomed.
Midwestern farmers have been relying on groundwater for nearly two decades. In fact, they've pumped so much groundwater that they've actually shifted Earth's axis, enough to make the poles drift by 80 centimeters.
Wildfires
Canada is still struggling to fight up to 450 wildfires across several provinces, and more and more people are being evacuated. Wildfires are popping up so frequently that rebuilding is becoming a challenge, as homes and buildings are being destroyed faster than they can be constructed.
Smoke from the Canadian wildfires is still causing hazy skies in parts of Canada and the US, making people feel homesick for the sky. Many states across the US are under air quality alerts, including Wisconsin and Michigan. Wildfire smoke is toxic to humans and animals, especially birds. Unfortunately, there is going to be a lot more smoke this year.
The city of Sacramento is trying something which will probably become very common in the near future: smoke shelters. If smoke from wildfires becomes too severe, residents can head to the Pannell Community Center will act as an emergency clean-air shelter costing over a quarter of a million dollars and will feature upgraded ventilation systems that can run on solar power in case of blackouts.
Climate Crisis
So what are we doing about all these horrifying problems? Not a lot. During a visit to California, Biden announced another $600 million in climate investments. It sounds like a lot, but it isn't when you consider that the world needs to invest $90 trillion by 2030.
According to a report by the Sustainable Development Solutions Network, the world is falling short of progress needed to meet the UN's 2030 sustainable development goals. The United Nations member states adopted the goals in 2015, and not a single one of the goals is on track to be met.
Biden acts as though we're on track to stop climate change, yet he continues to approve drilling projects all over the US. Despite this, four of the country's largest environmental groups have endorsed him for president, even though there are other candidates who want to go way further to protect the environment.
And if you were hoping the fusion power would provide a clean alternative to fossil fuels, I have some bad news. According to new documents obtained via lawsuit, the world's biggest fusion project is way behind schedule. Defects in components and technical challenges have caused the project to go billions over budget, and it's likely to get even worse.
Climate scientists have been warning of climate disaster for decades, but now that the weather is getting more severe, some people are attempting to throw scientists under the bus. According to a study published in Nature Climate Change, climate scientists have been reluctant to make predictions about processes that aren't well understood, such as ice sheet collapse. As a result, policymakers didn't understand just how dire the situation is.
However, part of the reason scientists have been so reticent is their fear of being called alarmists. Making a scary prediction without tons of data to back it up could ruin a climate scientist's career, so they've been careful to focus on what they know for sure, especially in the age of the Internet.
Nowadays, even meteorologists have to worry about backlash if they say too much about climate change. In Iowa, a meteorologist named Chris Gloninger recently resigned, citing PTSD from threats over his climate change coverage. One person in particular emailed him over and over, causing Gloninger to worry about his family's safety.
Pollution
Since people are consuming as much as a credit card's worth of plastic every week, researchers are attempting to find out what all these microplastics are doing to our bodies. In research published in Nanomedicine, they found that microplastics are triggering inflammatory responses in the body.
Microplastics are absorbed into the body through the intestine, and they accumulate in the liver, pancreas, heart, and even the brain, causing an inflammatory response. Normally, inflammation is the body's way of fighting an infection, but since the plastics never go away, the body becomes chronically inflamed, a condition linked to various diseases including arthritis, asthma, heart disease, and cancer.
If you wear contact lenses, microplastics are in your eyes, as well. According to research published by the American Chemical Society, contact lenses shed up to 90,000 microplastic particles per year. When the particles come into direct contact with the eye, they could potentially induce carcinogenesis, the process that triggers cancerous mutations.
Gas stoves made the news recently when it was discovered that they are linked to higher rates of asthma, especially in children. Now, a new study has found that gas stoves can increase the amount of benzene in the air to levels higher than those of secondhand smoke. Will people double-down on their love of gas stoves, or will they admit that gas stoves are bad for human health?
Disease
South Africa continues to provide a preview of how collapse may play out in other nations. The country has been dealing with power shortages for a long time, and since most places need power to pump water into homes, people are experiencing water shortages as well.
The lack of clean water has turned into a public health crisis, with cholera outbreaks becoming more common. Recently, an outbreak in Hammanskraal killed 29 people. Unfortunately, the power and water shortages are likely to get worse before they get better—if they ever get better.
In recent years, rates of cancer have been rising quickly among millennials. According to an analysis of data from the University of Washington School of Medicine, cancer rates among people aged 25- to 29 in G20 nations have risen faster than any other age group. Additionally, cancer rates among 20- to 34-year-olds in these countries are at their highest level in 30 years.
Researchers don't know why this is happening, but if you follow this newsletter, you already know that there are a multitude of environmental pollutants that could be causing this trend, especially microplastics and PFAS (forever chemicals). However, it's a mystery why cancer rates are rising in younger people and not older people.
UK scientists are warning of a "deadly virus" that could become widespread due to climate change. The disease is a tick-borne virus called Crimean-Congo haemorrhagic fever (CCHF). As the planet warms, the geographic range will get larger, reaching all the way to the United Kingdom. Climate change may also pave the way for other diseases such as Zika, Rift Valley fever, and breakbone fever.
In Sweden, hundreds of seagulls were found dead in a suspected bird flu outbreak. Although the risk to humans remains low for now, the WHO is stressing the importance of surveilling the virus's progress so we know as soon as it starts spreading among humans.
Biodiversity
New research published in Nature Sustainability suggests that ecological tipping points could occur much sooner than expected. The research, which focuses on modelling how tipping points can affect each other, warns that over 20% of ecosystems around the world, including the Amazon rainforest, could experience a catastrophic breakdown in a matter of decades.
In the US, nearly half of honeybee colonies died last year. The causes are numerous: parasites, pesticides, starvation, and climate change. Fortunately, beekeepers were able to stabilize the population, but doing so is getting more expensive every year.
New research published in Ecology Letters suggests that climate change could lead to widespread chaos among the world's insects. Warmer weather is disrupting ecosystems and hindering the evolution of new species, further contributing to the decline of insect populations. As the climate warms and more insects die, other animals that rely on them for food will begin to die out, as well.
Another study, this one published in the journal Science, finds that overfishing is driving coral reef sharks toward extinction. Five of the most common species have declined by 60-70%, and scientists fear this will have ripple effects down the food chain.
In California, hundreds of dolphins and sea lions washed up dead on several beaches. According to Justin Greenman, a stranding coordinator with NOAA Fisheries, this wave of dead and sick animals is "one of the largest in memory." The cause is toxic algae blooms, which are becoming more common because of fertilizer runoff from farms.
Society
According to the CDC, people in the US are getting depressed. A new study by the CDC surveyed adults in all 50 states and found that rates of depression have skyrocketed since the pandemic. They noted that some states are much worse than others, and that adults living in low-income areas have the highest rates of depression. As it turns out, being poor is depressing.
In the United Kingdom, millions of low-income households are cutting down or skipping meals due to rampant food inflation, according to the Joseph Rowntree Foundation. They found that 75% of households receiving Universal Credit have gone hungry, and they're urging the UK government to implement an "Essentials Guarantee" to ensure that state support covers life essentials such as food and water.
Economy & Geopolitics
Rates of depression and hunger are likely to continue rising as the world runs low on resources and countries fight over territory. For example, if China takes Taiwan by force, the US and other G7 nations would likely sanction China as they did with Russia, and this would have a huge effect on the world economy.
Recently, the Atlantic Council and Rhodium Group conducted research to find out how much this scenario would affect the economy, and they found that it would cost the global economy about $3 trillion and push even more people into poverty.
Unfortunately, tensions between the US and China aren't getting any better. Last week, US Secretary of State Antony Blinken visited China and agreed with President Xi Jinping to stabilize US-China relations.
The next day, in a classic gaffe, Biden called Jinping a dictator, catching US senior officials off-guard. Jinping responded by calling Biden's remarks absurd and a provocation. Although Biden isn't wrong, it's hard to see how the US can improve relations with China while regularly insulting its leader.
Meanwhile, Russia continues its saber-rattling, warning that Russia has more nuclear weapons than NATO. Last week, Russia moved nuclear weapons into Belarus for the first time since the collapse of the USSR.
And now, Russia is planning to add two nuclear submarines it its naval fleet, prompting fears that Russia will expand its presence in oceans around the world and gain the ability to launch a missile that can't be detected by the US Ballistic Missile Defense system.
While speaking to Democratic party donors in California, Biden said, "I worry about Putin using tactical nuclear weapons. It's real." Advisers to the Kremlin have suggested that Russia could drop nuclear weapons on Europe in order to force NATO to abandon its military support for Kyiv. If that strategy doesn't work, it could potentially lead to nuclear armageddon.
Conclusion
That's all for this week! Let me know if I missed anything or if you have any feedback.
I share this news to remind you that if you haven't started preparing for the collapse of civilization, now is the time to start stockpiling supplies, learning basic skills, and making friends in your local community. If this news made you anxious, please visit this page for a list of resources that can help.
You can also get this newsletter by subscribing on Medium or Substack. Until next time,
— Alan
Thanks for reading! If you're new here, I highly recommend reading this article which explains why civilization is going to collapse. If you want to start preparing, check out our list of free books and manuals and our list of recommended supplies. If you're feeling anxious about collapse, please visit the support page for tips on how to manage your emotions, places where you can get help, and lists of articles and videos on coping with collapse anxiety.