This post may contain affiliate links.* As an Amazon Associate I earn from qualifying purchases. Click here to read our affiliate policy.
Estimated reading time: 20 minutes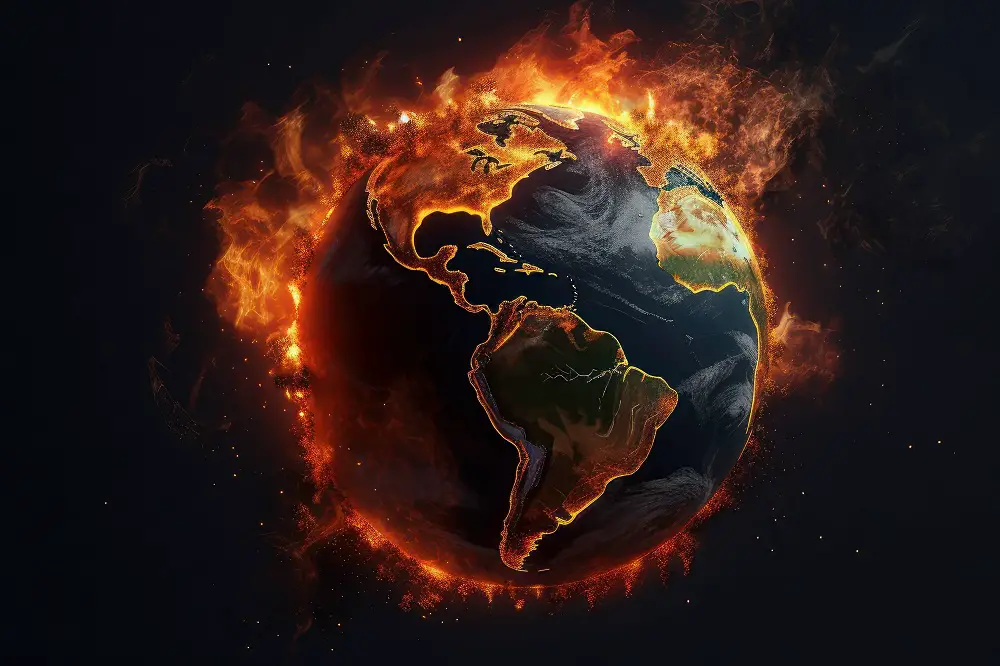 Welcome to the 21st edition of Collapse Catch-Up, a monthly newsletter that catches you up on the latest signs that we are living through the collapse of global industrial civilization. You can find the 20th edition here.
This month, I have a lot of bad news about our predicament. I've been following this stuff every day for over two years, and even I am shocked by how fast things are unraveling. Climate change is getting worse exponentially, but so is pollution and biodiversity loss. On top of all that, we're rapidly running out of essential resources.
If you haven't started preparing for the collapse of civilization, now is the time to start stockpiling supplies, learning basic skills, and making friends in your local community. If this news makes you anxious, please visit this page for a list of resources that can help.
Okay, here we go…
Heat
July of 2023 was the hottest month in recorded history, with countless records being broken in places all around the world. Overall, the temperature was 1.55°C above the 1850-1900 baseline.
The extreme heat began on July 3rd, when the average global temperature reached 17°C for the first time ever. Since then, every single day has been hotter than the previous world high temperature of 16.92°C. The record global heatwave has lasted for 28 days, and the Northern hemisphere got 0.4°C warmer than ever observed.
The UN says climate change is out of control, and Secretary General António Guterres warned that "The era of global warming has ended, the era of global boiling has arrived."
The Arctic is warming 4 times faster than the rest of the planet, and the result is a broken jet stream that created 4 simultaneous heat domes. The heat domes formed over the Southwestern United States, Central Asia, Northern Africa / Southern Europe, and the North Atlantic Ocean.
Currently, more than 170 million Americans are under heat alerts as high temperature records continue to be broken all across the United States. But the most extreme temperatures are in Arizona.
Last month, Phoenix, Arizona reached high temperatures of at least 110°F 31 days in a row, smashing the old record by 13 days. Due to this record-breaking heatwave, Phoenix became the first major US city to reach an average monthly temperature above 100°F.
Temperatures in Arizona are so high that just touching roads or concrete can cause serious burns, which is why doctors have been dealing with a spike in patients who were burned after falling to the ground. Incredibly, it's so hot that even saguaro cacti are dying.
The current Southwestern heatwave has been dubbed "Heatwave Chevron" by a meteorologist named Guy Walton, who decided to start naming heatwaves after fossil fuel companies. His goal is to draw attention to the fact that we wouldn't be having such severe heatwaves if it weren't for fossil fuels.
Asia has also been languishing under a heat dome. Last month, China shattered its all-time high temperature record by 1.9°C. This is also the hottest temperature ever recorded north of 40 degrees latitude. The seemingly endless heat has caused power shortages across several countries in Southeast Asia.
Another heat dome formed over Northern Africa and Southern Europe, causing Greece to have its longest heatwave in history, during which it set a new high temperature record of 46.4°C. Over in Sicily, half a million people lost power, presumably due to heat damage to underground power cables.
Meanwhile, Iraq had its worst heatwave in 40 years, and Morocco and Algeria recorded some of Africa's highest-ever temperatures. Africa also had its hottest nighttime temperature ever recorded at 39.6°C. And Central America had its hottest temperature ever for the month of July. The record happened in El Salvador, where temperatures reached 41.8°C.
There were so many heat records around the world that it would take too long to cover them all in this post. If you want to learn more, here's a list of heat records that were smashed this summer.
But don't worry. The Washington Post says you can build up a tolerance to heat. I guess there's nothing to worry about then. The Onion had a much better take. They advised Americans to seek privilege to escape the brutal heat.
Oceans / Glaciers
Scientists are shocked at how warm the ocean has gotten this year. Sea surface temperatures have been much higher than the models predicted, and researchers are trying to figure out why. The North Atlantic Ocean is particularly hot, and has been for months. On July 30th, it reached its highest temperature ever recorded at 25°C.
As a result of all this heat, glaciers in the Arctic are rapidly melting, and new research suggests that as they melt, they're uncovering groundwater springs which release methane, a particularly potent greenhouse gas. Some scientists call it a hidden methane time bomb.
According to research published in Science, Greenland has a much greener history than previously thought. Scientists now believe that around 400,000 years ago, when temperatures in Greenland were similar to today's, the ice sheet melted enough for vegetation to grow. This is very bad news because it means the Greenland ice sheet will likely melt faster than expected, which means sea levels will also rise faster than expected.
As Greenland melts, the cold freshwater is pouring into the Northern Atlantic and disrupting the AMOC (Atlantic Meridional Overturning Circulation). Even so, most scientists didn't think the AMOC would collapse until the 22nd century.
But now, new research published in Nature Communications suggests the AMOC could collapse as soon as 2025, bringing profound weather changes to the entire world. It would affect every person on the planet, causing unimaginable temperature fluctuations and extreme weather events.
The North Atlantic isn't the only place where the water is warmer than ever. Recently, the Mediterranean Sea reached its highest temperature ever, but the most shocking temperatures were in Manatee Bay, Florida. Down there, sea surface temperatures got all the way up to 101.1°F (38.4°C), which is the highest ocean temperature ever recorded.
Unfortunately, the high temperatures are killing coral reefs, with one reef restoration off the coast of Florida experiencing 100% coral mortality. This isn't just bad for ocean life. Coral reefs act as a buffer, protecting the coasts from waves and storm surges. As the coral reefs die off, coastal flooding will become worse and more common.
Possibly the most shocking news is what's happening around Antarctica, where sea ice extent has been at a record low for months. Recently, it reached reached its lowest extent since observations began. The loss is approximately 9 times the size of Great Britain.
To be clear, the sea ice is still expanding because it's winter in the Southern hemisphere. What's shocking is how slowly it's expanding, falling way behind where it should be. In fact, sea ice extent is so much lower than usual, the odds of it happening without climate change are about 1 in 13 billion.
As a result of these rapid changes, Antarctic deep ocean currents are slowing down faster than predicted by the climate models, slowing by almost 1/3 in the last 30 years. This is terrible for marine life as it means a decline in oxygen levels and fewer nutrients being carried up to the surface. These things will disrupt marine food chains and cause many sea creatures to suffocate or starve.
Drought
Severe droughts continue to impact countries all over the world. The Western United States has been in a megadrought for two decades, and the Colorado river basin has lost enough water to fill Lake Mead. Scientists say it's mostly because of an 86% decline in snowpack runoff.
Snowmelt isn't just lower than usual; it's also melting earlier in the year than usual. Because of this, a drought emergency has been declared in 12 Washington counties.
Down in Mexico, the government is seeding clouds in order to combat its historic drought. This practice will likely become common around the world as governments become desperate for fresh water. Turns out water is essential for a functioning society.
Europe is also going through a severe drought. In order to make up for the lack of rainfall, cities and farmers are relying on aquifers, but groundwater is being lost faster than rain can replace it. As a result, many of the world's aquifers will be depleted by 2050.
Droughts don't just cause lower crop yields and larger wildfires. They have all sorts of unexpected effects. In Germany, for example, years of drought have led to an onslaught of bark beetles, which are destroying the forests.
In Uruguay, drought has left millions of people without tap water that is fit for drinking. Three consecutive years of drought have left the country's main reservoir with very little water, and the government has gone as far as adding seawater to extend its life.
In China, scientists are attempting to stop glaciers from melting by shielding them from the sun. Much of China relies on melting glaciers for drinking water, but as the glaciers get smaller, they produce less water each year. Shielding them from the sun could help, but it's only a temporary solution.
Wildfires
As a result of all this heat and dry weather, wildfires are burning all over the planet. However, the worst of it is in Canada, which has had, by far, its worst wildfire season in history. The fires are burning at a record pace, and they've destroyed a staggering 25 million acres and killed 4 firefighters.
The Canadian wildfires are producing catastrophic carbon emissions which will contribute to global warming. Smoke from the wildfires has put at least 70 million Americans under air quality alerts. Scientists are calling this the new abnormal.
Greece has also been dealing with massive wildfires. Near Athens, residents were forced to flee as wildfires rapidly spread across the countryside. After two weeks, the wildfires are mostly under control, but it's not over yet. So far, more than 40 people across Greece, Italy, and Algeria have died.
In Great Britain, tourists experienced a living nightmare as 19,000 people were evacuated from the Greek island of Rhodes. 3,000 people were rescued from beaches and the rest were taken to safety on land.
Extreme Weather
Climate change doesn't just cause more droughts and wildfires; it causes extreme weather of all types. Tornadoes, for example.
Last month, a tornado destroyed a Pfizer factory in North Carolina, which resulted in a shortages of crucial medications. As extreme weather destroys more factories and infrastructure, shortages of all sorts of things will become more common.
Early in July, the Netherlands got battered by the strongest summer storm on record, killing one person and throwing air and rail travel into chaos. Switzerland was also hit by a severe storm, which killed 1 and injured 15. The storm arrived suddenly, bringing wind gusts as high as 135 mph.
Yet another severe storm swept through 4 Balkan countries, killing 6 people and knocking down over 1,000 trees. And in Italy, an extremely rare tornado ripped through a suburb of Milan.
At the same time, Italy was hit with giant hailstones as long as 19 centimeters. In fact, Europe broke its record for largest hail twice in 5 days. The severe storms and hail created rivers of icy water in the streets.
Floods
A 1-in-1000 year rain event caused massive floods all across New England after a storm dumped 2 months of rain in just 2 days. The floods led to over 100 rescues and at least 1 death. A couple weeks later, the East coast of Canada had its heaviest rain in 50 years, flooding roads and cutting power for thousands.
Countless other areas were hit with floods in July, and it would take too long to list them all, but here are some of the most significant.
In the Spanish province of Zaragoza, flash floods turned streets into rivers, forcing people to cling to their vehicles as they were swept down the street.
Japan had a downpour so intense that meteorologists called it the heaviest rain ever. The storm triggered floods and multiple landslides, killing at least 6 people.
In South Korea, heavy rains caused floods and landslides that killed at least 41 people.
In the capital of Mongolia, hundreds of people were forced to flee their homes due to heavy flooding.
Over in China, floods killed 15 and displaced thousands of people. A couple weeks later, Typhoon Doksuri hit Beijing, displacing thousands of people, leaving 20 dead and 27 missing. In this video, you can see cars floating down the street.
In northern India, the monsoon rains brought landslides and flash floods to multiple cities, blocking 700 roads and killing at least 22 people. It was so bad that flood waters reached the walls of the Taj Mahal for the first time in 40 years.
The heavy rains also killed tomato crops, causing the price of tomatoes to rise by 400%.
Food Security
Climate change is already having a major effect on the global food supply. After heavy monsoon rains, which caused the destruction of many rice crops, India decided to ban rice exports. The move led to people panic-buying rice in fear of shortages. This type of food protectionism will become more common as crop yields decline.
Rampant heatwaves are threatening food security for the entire planet. And now, scientists are warning that they have underestimated the risk of synchronized global crop failures.
According to research published in Nature Communications, the likelihood of concurrent low crop yields during summers with meandering jet streams is higher than they thought. If multiple breadbaskets all have lower yields in the same year, it could cause widespread food shortages all around the world.
In Europe, cereal crops have been damaged by heatwaves, causing the lowest harvest since 2007. This couldn't be happening at a worse time, as the Black Sea grain deal just collapsed. The deal was negotiated over a year ago between the UN, Turkey, and Russia, and it allowed the export of food and fertilizers from Ukrainian ports.
Now, Russia has pulled out of the deal. The result will be higher prices for wheat and a shortage of fertilizer, further threatening the global food supply. The fertilizer shortage is already contributing to a food crisis in Africa, where farmers simply can't afford the higher costs.
Meanwhile, some cities are turning empty office buildings into vertical farms. Doing this creates jobs and provides more food security in urban areas, and it can be done no matter what the weather is like outside. Unfortunately, it takes a lot of energy, something which is going to become more expensive as we run out of cheap fossil fuels and rare-earth metals.
Climate Crisis
One of the scariest things about the climate crisis is that scientists don't know just how bad it will get. So far, extreme weather events have been worse than expected, and that trend is likely to continue. However, the new chairman of the IPCC says we can avoid the worst of it.
The extreme heat and severe weather we're experiencing suggests that parts of the climate system have reached tipping points. If that's true, then we could be near a point where the planet will keep warming even if we quit fossil fuels. The world-renowned climate scientist, James Hansen, has been warning about this for years, but few people are listening.
Meanwhile, Great Britain has decided to hand out new oil and gas licenses, which activists say will send "a wrecking ball" through climate commitments. Greece has also decided to allow exploratory drilling for oil and natural gas.
Some people say that natural gas isn't as bad for the planet as coal and oil, but according to research published in the journal, Environmental Research Letters, natural gas is just as bad when you account for all the leaks.
Climate Action
In a congressional hearing, US climate envoy John Kerry said that under no circumstances will the US pay climate reparations to developing countries hit by climate-fueled disasters. This is despite the fact that at least 14% of emissions are from the US even though the country only makes up 4% of the global population.
During a visit to China, John Kerry tried convincing Chinese leaders to commit to stronger climate action, but they rejected his proposals, saying they will phase out fossil fuels at their own pace. Russia and Saudi Arabia also aren't showing any interest in fighting the climate crisis, as they recently rejected a G20 proposal to triple green energy.
Greta Thunberg was forcibly removed from a climate protest after a local court fined her for disobeying police orders. Currently, Thunberg and other activists are planning on suing Sweden for contributing to the destruction of the planet.
In the United Kingdom, the police now have expanded powers for cracking down on what they call "scandalous mayhem". The new powers will make it easier for police to break up protests and arrest people who block traffic.
Even as global heat records are shattered, fossil fuel companies are quietly walking back their climate pledges, which shows just how worthless climate pledges are. BP, for example, had promised to cut emissions by 35% by 2030. Now they say they're aiming for a 20-30% reduction.
According to a study done by US consultancy giant McKinsey & Co, the green energy transition will be hindered by a shortage of crucial rare-earth metals. They concluded that investments of $3 to $4 trillion will be needed to make up the supply shortfall. If we don't make these investments, we'll see major shortages as soon as 2030.
Even if everyone gets an electric vehicle, we'll have to deal with the fact that EVs don't perform well in high temperatures, having a shorter range and taking longer to charge. They also send more toxic tire particles into the environment than gas-powered cars due to their heavier weight.
Pollution
The Holocene is over and the Anthropocene is here, but scientists want to make it official. They have chosen a Canadian lake to represent the start of the Anthropocene.
The lake, called Crawford Lake, has annual sediments showing signs of plutonium from hydrogen bomb tests and particles from fossil fuel burning. If approved, the official declaration of the Anthropocene as a new geological epoch will be made in August 2024.
According to a study conducted by the U.S. Geological Survey, PFAS (per- and polyfluorinated substances), better known as "forever chemicals", are present in nearly half of US tap water. Perhaps this is part of the reason for the rise in cancer rates among young adults.
According to a study published in the journal, Science Advances, microplastic pollution has been growing exponentially, and the amount of global plastic waste is set to triple by 2060.
It gets worse. According to a new study published in the journal, Nature Materials Degradation, plastics degrade faster than once thought, shedding even more microplastics into the environment than experts realized.
After industry pressure, the European Commission is going to break its promise to outlaw all but the most essential of Europe's hazardous chemicals. According to leaked documents, a mere 1% of products containing hazardous substances could be prohibited.
In 2020, the International Maritime Organization created an rule that sharply reduced the amount of sulfur allowed in shipping fuel. Unfortunately, a study published in the Marine Pollution Bulletin finds that the pollutants normally released into the atmosphere are instead being dumped into the ocean, threatening marine ecosystems.
The oceans are already polluted enough. According to a study published in the journal, Nature, about 710 tonnes of pesticides make their way into the world's oceans every year.
Disease
According to the World Health Organization, the ongoing bird flu (H5N1) outbreaks in animals pose a serious risk to humans. While bird flu mainly spreads among birds, there have been more and more cases among mammals, raising concerns that the virus could adapt to spread among humans.
Bird flu has already killed millions of birds globally, but it's killing many other types of animals, as well. In Poland, for example, at least 20 housecats were killed by bird flu, but experts still aren't sure of the source of the outbreak. Two cats in South Korea also died from bird flu.
In Brazil, a bird flu outbreak has been confirmed in the state of Paraná, which accounts for 35% of Brazil's poultry production. Bird flu has also been found in 10 fur farms in Finland.
Scientists believe bird flu has already become endemic in the Americas and Europe. This means there will be an ever-increasing risk that the virus mutates an ability to spread faster and into other animals.
Although most people are pretending that the COVID-19 pandemic is over, it continues to kill hundreds of people every day. And now, the CDC has detected signs of a late summer COVID wave.
Long COVID is disabling children, causing neurological damage that largely goes unnoticed. We should be mitigating the damage with air purification, ventilation, and continuous masking. Instead, some places are actually banning facemasks.
COVID is causing all types of long-term health problems. For example, it seems to be causing an increase in cases of diabetes, but experts aren't sure why. And a UC Davis Health study found that Covid can cause inflammation with results in acute bone loss and a higher risk of fractures.
According to research from the Health Foundation, rates of major diseases such as cancer and diabetes are likely to increase by 1/3 by 2040. There reasons are numerous, including COVID, pollution, and an aging population.
Deaths of despair have also continued to rise, with the U.S. recording nearly 110,000 overdose deaths in 2022.
Biodiversity
According to a recent study, the ongoing mass extinction event is going to be worse than first predicted. The study found that nearly half the planet's animal species are in decline. As Eliot Jacobson explained on CNN, "The actual definition of mass extinction is losing 75% of species over 2.8 million years. We're gonna do it in 100 years."
According to research published in Nature Sustainability, catastrophic "doom loops" could begin in just 15 years. According to scientists, tipping points—such as the melting of the Arctic permafrost, the collapse of the Greenland ice sheet, or the sudden transformation of the Amazon rainforest into savanna—could occur as soon as 2038. Once these tipping points are crossed, there's no going back.
Meanwhile, most countries and companies are continuing their destructive practices as if everything is okay. For example, according to the EPA, three widely-used pesticides are driving hundreds of endangered species toward extinction. These pesticides should have been banned decades ago.
In Iraq, tens of thousands of fish have died due to high salinity and a lack of oxygen in the water. This is the result of less freshwater coming from the Tigris River. And in Syria, fishermen say their catch is a fraction of what it used to be due to water loss and pollution.
Recently, around 2,000 penguins washed up dead on the coast of Uruguay. Initially, experts believed bird flu was the culprit, but the penguins tested negative. However, they did find that 90% of the penguins had empty stomachs and no fat reserves, which suggests they starved to death due to the decline in marine life.
Resources
According to the International Energy Agency, the world reached the peak of conventional crude oil production in 2006. Since then, shale oil has made up the difference and allowed the world to continue increasing oil production.
One of the biggest sources of shale oil is the Permian Basin, which accounts for about 40% of all oil production in the United States. But now, it looks as though the Permian Basin is depleting faster than expected.
According to a report from G&R, a research firm that focuses on natural resource investments, the basin will likely peak next year. As explained in this article, "the implications will be as profound as when United States oil production peaked in 1970, starting a chain of events ultimately sending prices up five-fold over ten years."
Meanwhile gas prices are already on the rise all around the world due to refinery outages and low stockpiles. Venezuela is down to just one working refinery, lowering their refining capacity by 86%.
As the cost of oil goes higher, countries will be forced to ration gas and electricity. It's already beginning in some places. For example, Egypt recently announced that it is rationing electricity due to ongoing power shortages.
China is also aware of the problem of declining oil and gas reserves. In hopes of finding more, they've begun digging a 10,000-meter hole in the Earth. This is the second time they've dug a hole this deep. The first one was experimental in nature, but now the Chinese government is pressuring energy companies to boost domestic production.
Economy
Some Federal Reserve economists are warning that the biggest economic crash in 50 years is just around the corner.
According to a recent paper by Fed economists Ander Perez-Orive and Yannick Timmer, the number of US companies on the verge of insolvency is at its highest point in half a century. In addition, supply bottlenecks in international trade, coupled with export restrictions on rare earths imposed by China, could exacerbate inflation, leading to further interest rate hikes.
New research for the Trussell Trust has found that 1 in 7 people across the United Kingdom regularly face hunger because they don't have enough money. Of course, hunger is a problem all over the world, but it's amazing to see such high levels of hunger in what is supposed to be a modern country.
Last month, Farmers Insurance decided to leave Florida due to the increasing risk of floods and hurricanes. This news comes just one month after State Farm announced it was leaving California due to wildfires and soaring construction costs.
Experts are warning that climate change could cause a home insurance meltdown, which would be devastating for the economy.
Conclusion
That's all for this month! Let me know if I missed anything or if you have any feedback.
Please share this information with anyone who will listen. The more people who understand what's going on, the better.
And once again, if you haven't started preparing for the collapse of civilization, it's time to start stockpiling supplies, learning basic skills, and making friends in your local community.
If you're wondering why you should even bother, please read this. If this news made you anxious, visit this page for a list of resources that can help.
By the way, you can also get this newsletter by subscribing on Medium or on Substack. Until next time,
— Alan
Thanks for reading! If you're new here, I highly recommend reading this article which explains why civilization is going to collapse. If you want to start preparing, check out our list of free books and manuals and our list of recommended supplies. If you're feeling anxious about collapse, please visit the support page for tips on how to manage your emotions, places where you can get help, and lists of articles and videos on coping with collapse anxiety.