This post may contain affiliate links.* As an Amazon Associate I earn from qualifying purchases. Click here to read our affiliate policy.
Estimated reading time: 23 minutes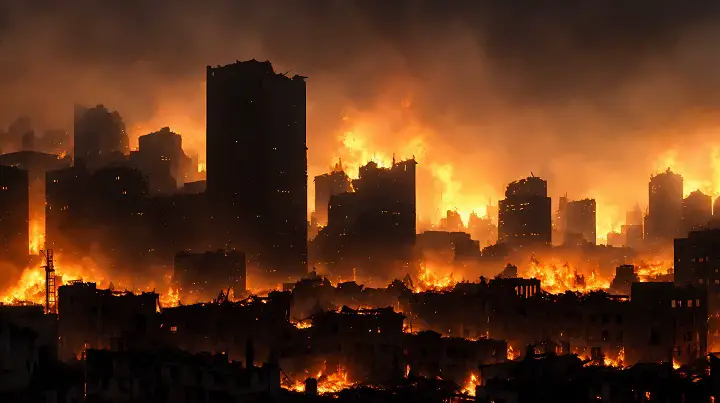 Welcome to the 22nd edition of Collapse Catch-Up, a weekly newsletter that catches you up on the latest signs that we are living through the collapse of global industrial civilization. You can find the 21st edition here.
This month I have all sorts of bad news, from record-breaking heat and wildfires to record-breaking floods and crop failures. Despite these disasters, world leaders are ignoring the climate crisis and doubling down on fossil fuels and economic growth.
Meanwhile, pollution and biodiversity loss are also getting worse at an accelerating rate, and all of this is taking a toll on the world economy, which looks like it's about to head into a deep recession—or worse.
If you haven't started preparing for the collapse of civilization, now is the time to start stockpiling supplies, learning basic skills, and making friends in your local community. If this news makes you anxious, please visit ​this page​ for a list of resources that can help.
Okay, let's dive in…
Heat
Following the hottest month in recorded history, August started out with a series of heatwaves all around the world. In the first 10 days of the month, about 1/3 of all countries broke heat records.
In the United States, the month began with about 65 million Americans under heat alerts, mostly in Texas and the Southeast, where multiple records were broken. The relentless heat continued through the month, affecting 1/3 of U.S. residents.
Later in the month, yet another massive heat dome settled over most of the United States, bringing record-breaking temperatures to cities all across the country. Houston tied its all-time high temperature, New Orleans had its hottest day ever, and South Mississippi had its two hottest days on record.
In Tucson, Arizona, temperatures reached at least 100°F 53 days in a row, breaking the old record by two weeks. Even places like Portland, Oregon reached over 100°F, which is about 25°F above normal for the month of August.
Austin, Texas had 40 days in a row of triple-digit heat. It also set a record for the most 105°F days in a row for the second time this year. Early in the month, Texas power prices surged 800% amid a searing heat wave. Later in the month, power prices soared as much as 6000% in anticipation of record-breaking temperatures.
As a result of the extreme heat, a couple living in Baytown, Texas died after their air conditioner broke. In fact, there has been a record number of deaths from extreme heat. In Arizona, heat deaths surged so much that the governor declared a heat emergency.
Of course, the United States wasn't the only part of the world to experience record-breaking heat. In South America, temperatures reached over 37°C (100°F) in the middle of winter. Climate scientists can barely believe it.
Most of South America had an unprecedented heat wave, with temperatures getting as high as 45°C (113°F) in Bolivia…once again, in the middle of winter. This is the highest temperature ever recorded in meteorological winter in the whole Southern Hemisphere.
The Southern hemisphere has had a summer-like winter, giving us a preview of what future winters will look like in most places as global temperatures rise at an ever-faster rate. As one climatologist said, "This event is rewriting all climatic books."
Over in Morocco, temperatures surpassed 50°C for the first time ever. And up in Europe, a heat wave broke dozens of records in Spain and France, often by a lot. Valencia, Spain, for example, broke it's previous high temperature record by 3.4°C. And in Sweden, warm weather pushed the zero-degree Celsius level to its highest altitude since records began.
Down in Iran, the government decided to announce a two-day holiday due to the extreme heat. The hot-tub-like Persian Gulf pushed the heat index up to 70°C (158°F), a temperature that would kill people en masse if not for air conditioners. It's getting so hot in Iran that scientists estimate up to 70% of the population will need to leave by 2050.
Over in Asia, Thailand had its highest temperature ever recorded for the month of August. In South Korea, 16 people died from heat-related causes. And in Japan, citizens went through the country's worst heat wave in history, with dozens of high temperature records being set day after day.
August was the hottest August in recorded history; summer of 2023 was the hottest summer in recorded history; and so far, 2023 is on track to be the hottest year in recorded history. But with the onset of El Niño, 2024 is going to be even hotter.
Drought
According to a new report from the World Resources Institute's Aqueduct Water Risk Atlas, 1/4 of humanity is already facing extreme water stress, yet most countries are using up groundwater like there's no tomorrow.
In Utah, the drought is making the Great Salt Lake even saltier as water evaporates. As a result, it's becoming too salty to support life. In addition, if water levels get much lower, the exposed lake bed will send plumes of toxic dust toward Salt Lake City.
Phoenix, Arizona had it's second-longest dry streak on record, going 147 days without any measurable precipitation. And yet, Phoenix is still the number one relocation destination for homebuyers in America.
Down in Panama, there is a huge backlog of ships trying to cross the Panama Canal due to an extended drought. The canal relies on rainwater, but with unusually low water levels, authorities are limiting the amount of ships that can cross daily in order to conserve water. The restrictions could last for up to 10 months and will likely fuel inflation.
Even countries that once had an abundance of fresh water, such as Uruguay, are running out. In May, the government approved the use of saline water for everyday consumption, despite health concerns. Fortunately, rain has brought the current water crisis to an end, but in the long run, it's going to keep getting worse.
In France, the drought is so bad that 30,000 residents were left without reliable water sources, giving Europeans a preview of the future. To get by, the residents are relying on tankers or bottled water.
Saudi Arabia is fighting the drought by investing $1.3 billion in desalination. Of course, this will require a lot of energy, something that will soon be in short supply. Still, more and more countries are likely to take this path as the droughts get worse.
British Columbia is having its worst drought in history, which is helping fuel Canada's record-breaking wildfire season.
Wildfires
This year, wildfires in Canada have burned the largest area in recorded history. And unfortunately, the fires will keep burning for a long time. The fires have been especially bad in British Columbia, where authorities declared a state of emergency.
Wildfires in the Northwest Territories of Canada destroyed the town of Enterprise and threatened the residents of Yellowknife, who were forced to evacuate. The fires are being held at bay for now, but it's still unsafe for people to return.
In some places, people have even seen fire tornados, a rare and dangerous phenomenon. Officials are warning that the historic Canadian wildfires could persist into the fall.
Meanwhile, the smoke from the wildfires is wiping out decades of progress on air pollution and will likely have a significant effect on people's health. Of course, Canada isn't the only country suffering from wildfires.
One of the most dramatic series of wildfires this year occurred in Hawaii. The fires began suddenly, and high winds swept them across Maui, forcing thousands of people to evacuate with little warning. Some people were forced to jump into the ocean to escape the fires.
The current death toll stands at 115, and 388 are still missing. However, after three weeks of searching, survivors are no longer expected.
The Hawaiian wildfires have sparked a lot of debate over how this could have happened. Hawaiian Electric admits its powerlines started the fires, but the question is why they spread so quickly. High winds are one reason, but some experts blame it on non-native grass species which grew unchecked.
The federal response to the Maui wildfire has mostly been indifference, which is no surprise. And of course, developers and real estate speculators are swooping in and buying the land for pennies on the dollar.
Wildfires are also burning in the Mojave desert, destroying Joshua trees and threatening to forever alter the landscape. Unprecedented wildfires swept across Louisiana as well, forcing multiple evacuations.
In the Canary Islands, tourists watched in horror as a wildfire spread across the island, forcing thousands to evacuate. However some beachgoers appeared unbothered.
Wildfires also raged across Spain and Portugal amid a record heat warning. Over in Russia, the Siberian forests are also on fire, as they are every year.
In an article published in Science, scientists warn that the growing number of wildfires poses a serious threat to the global climate. They explain that the increased CO2 will exacerbate climate change, and the massive plumes of smoke will disrupt Earth's systems, leading to devastating impacts.
Floods
Last month, Hurricane Hilary made records by becoming the first tropical storm to hit California in 84 years. The storm made landfall in Mexico's Baja California Peninsula, bringing record rainfall to the Southwest and breaking dozens of rainfall records for the month of August. Death Valley, for example, got a year's worth of rain in just one day.
More recently, Hurricane Idalia made landfall in Florida after strengthening from a category 1 to a category 4 overnight due to the warm waters in the Gulf of Mexico.
The storm was downgraded to a category 3 just before hitting Florida, after which it headed into Georgia. The storm knocked out power to hundreds of thousands of people and caused widespread flooding damage. It looks as though it will be the United States' most expensive climate disaster of the year…so far.
In Alaska, the glaciers are melting so rapidly that they caused a major flood in Juneau, eroding the riverside and destroying houses. Over in Ottawa, flash floods caused sewage mayhem as toilets overflowed.
In Europe, the country of Slovenia suffered its worst-ever floods, with damage topping 500 million Euros. And in Hungary, massive floods broke a 51-year-old flood record.
In Northern India, heavy rains led to a mudslide that collapsed a temple, killing over 60 people. In Bangladesh, the floods killed 19 people and affected millions. And in Myanmar, monsoon floods killed 5 and forced 40,000 people to evacuate.
Early in the month, Beijing, China had its heaviest rainfall in 140 years due to the remnants of Typhoon Doksuri. The floods destroyed roads and homes across the city, displacing over a million people.
Shortly thereafter, Typhoon Khanun made its way up the Korean Peninsula, bringing severe wind and rains to the Philippines, Japan, South Korea, and parts of China.
Food Security
Alain-Richard Donwahi, a former Ivory Coast defence minister who led last year's UN Cop15 summit on desertification, warned that climate change is going to start hitting the world food supply before the 1.5°C threshold. The truth is, climate change is already affecting crop yields.
This year, there has been a significant uptick in the number of stories about crop failures. Here are just a few of them.
Due to extreme weather in Asia, many rice crops have been destroyed, causing prices to soar and fanning fears of food inflation. Rice prices reached their highest level since 2008, and global prices are likely to surge higher. Economists are warning that some food prices may never come down.
Rice isn't the only crop in trouble. Deadly floods hit China's main grain-producing region, fueling even more food inflation. The floods destroyed corn and other cereal crops, and now, farmers are facing an earlier-than-expected attack from crop pests.
Severe flooding affected crops in India as well, especially tomatoes, which prompted Burger King to tell its customers that tomatoes were on vacation. In other parts of India, farmers had the opposite problem, with record low rains hurting summer crops and significantly reducing yields. As a result, India is now placing restrictions on every grain.
In the United States, orange juice prices surged as crops were ravaged by disease and climate. Meanwhile, farmers in New Mexico are ending their growing season early due to record low water levels in the Rio Grande.
In Canada, an unusually rainy summer is ruining crops on some New Brunswick farms. And in Ireland, farmers are struggling because the fields are too wet to harvest.
The United Kingdom has had its wettest July on record, and farmers are warning that wheat, potatoes, and other crops have been affected. Down in Italy, extreme weather is causing fruit to disappear from orchards. Heat and drought are also killing siracha peppers, which is a very bad sign as peppers usually thrive in hot and dry conditions.
In response to the food crisis, a growing number of governments and investors are working to develop the edible-insect market, as insects require 10% as much land and 20% as much water as beef cattle. However, experts worry that escaped insects could wreak havoc on local crops and ecosystems.
Meanwhile, Norway is planning to spend $6 million per year stockpiling grain, citing the pandemic and climate change. No doubt more countries will do the same.
Oceans / Glaciers
North Atlantic sea surface temperatures reached new highs in August, topping out at 25.3°C. Global sea surface temperatures reached 21.1°C for the second time this year, which is alarming because temperatures in August are typically lower than their March/April peak.
Because the ocean is so hot, the NOAA has doubled the chances of a nasty Atlantic hurricane season. That prediction began to come true a couple weeks later when 3 tropical storms formed in less than 24 hours.
In Florida, an unprecedented bleaching event is destroying the coral reefs. But it's not just Florida. A huge coral bleaching event is unfolding all across the Americas. Some researchers wept, knowing they would probably never see the corals alive again.
According to new research, Spain's largest glacier is in a terminal phase and will likely be gone in 10 years. In an article published in Nature, scientists explain that all these melting glaciers will reveal vast new ecosystems in need of protection.
Global sea ice levels continue to be extremely low for this time of year. Antarctic sea ice extent, in particular, is shockingly low. It gets worse. Experts say a larger-than-normal hole in the ozone layer could cause further warming of the Southern Ocean.
Scientists say it is virtually certain that extreme Antarctic events will get worse without drastic action. They say Antarctica could stop acting as the planet's refrigerator and instead become the planet's radiator. All this heat is shaking the foundation of the ocean food web.
Climate Crisis
In a study from Western University, scientists say that climate change could kill as many as 1 billion people over the next century. However, this is based on the idea that for every 1000 tons of fossil fuel carbon burned, one person dies. It completely ignores that fact that the consequences of climate change will get exponentially worse over time.
According to a new paper from the world-renowned climate scientist, James Hanson, the 12-month average global temperature will likely reach 1.5°C above the pre-industrial baseline by this time next year. As he said on Twitter, the climate is headed for a new frontier.
Once we pass 1.5 degrees of warming, 2 degrees won't be far behind. Recently, Exxon acknowledged that the world will fail to limit global temperature rise to 2°C. It's almost like they're gloating. Meanwhile, global carbon emissions hit a new record in 2022.
Although CO2 is the main driver of climate change, methane is playing an ever-larger role. According to a study published in the journal, Global Biogeochemical Cycles, we may already be 16 years into a methane-fueled termination event significant enough to end an ice age.
The signs are everywhere. Methane emissions from tropical wetlands have been soaring since 2006, and thermal imaging has revealed methane gas seeping from 32 sites across Australia. However, the problem is likely worse than we realize as many methane emissions are going unreported.
Consider Sultan Al Jaber, for example. He is the host of this year's COP28, and he's the chief executive of the UAE's state oil company, Adnoc. As it turns out, Adnoc has failed to report its methane emissions to the UN for nearly a decade.
In the United States, the far right has a "battle plan" to undo all climate progress should Trump win the presidential election in 2024. It's called Project 2025, and the idea is to stop any investments in renewable energy and double-down on fossil fuel energy.
The far right is also trying to ensure that younger people will reject climate science. To that end, Florida will now allow teachers to play videos that deny climate science. Some of these videos actually compare climate activists to Nazis, which is disgusting given that climate activists are trying to save humans, not exterminate them.
According to a study released in PLOS, the richest Americans account for 40 percent of climate emissions. This shows that the United States could survive on a lot less energy and drastically reduce emissions.
However, the richest Americans would have to change their spending habits. For example, they could stop eating so much meat. A mere 12% of Americans consume half the country's beef.
There has been a lot of hope that plant-based meats would eventually replace traditional meats, but it's not working out that way. This year, Beyond Meat's revenue in the second quarter fell 31% compared to last year.
Part of the reason is the high price. As Americans run low on spending money, price becomes a bigger concern. That's part of the reason electric vehicle sales are beginning to plateau. Car dealers are actually turning away EV inventory because they can't sell them.
After years of declines, green energy is getting pricier, and many utilities are relying more on fossil fuels again. In fact, global oil demand hit a record high this year. So naturally, big oil is doing better than ever. The oil giant BP just reported profits of $2.6 billion.
Governments are also complicit. According to a new report, the G20 nations poured over $1 trillion into fossil fuel subsidies despite their COP26 pledges. According to the IMF, fossil fuels are being subsidized at a rate of $13 million per minute.
Despite a record-breaking wildfire season, Canada's oil sector is planning to ramp up oil production. Meanwhile, the UK government decided to drop climate change from the government risk register. They'd rather pretend climate change doesn't exist than prepare for the impacts.
In Montana, a group of young people won an historic climate lawsuit after suing Montana officials for failing to adequately address climate change. The case will now move to the Montana Supreme Court. Meanwhile, Joe Biden's DOJ claims there is no constitutional right to a stable climate.
Although there is no evidence that it will work at scale, many people are putting their hopes in carbon capture technology, which is still in its infancy. And now, two pioneering CO2 storage projects may have already leaked CO2.
Despite these problems, the US Energy Department announced its largest-ever investment in carbon capture technology. It amounts to about $1.2 billion, but some experts fear the US carbon capture plan is just a fig leaf to protect the fossil fuel industry.
In Europe, climate activists are targeting jets, yachts, golf courses, and other properties owned by the super-rich, who are disproportionately responsible for the climate crisis. At the same time, European nations are cracking down on direct action climate protests.
Pollution
Microplastic pollution is a problem that continues to get exponentially worse. In a recent study published in the International Journal of Molecular Sciences, researchers found that microplastics can infiltrate all systems of the body and even cause behavioral changes.
In Beijing, a team of researchers discovered microplastics in the hearts of patients. And research published in the journal, Environmental Research, found that repeated consumption of microplastics can cause severe brain inflammation.
Sadly, there's little we can do about it. An ocean cleanup group removed a record 25,000 pounds of trash from the Great Pacific Garbage Patch in one extraction, which is great. But according to research published in Nature Communications, microplastics are now so ubiquitous that the oceans are releasing them into the atmosphere.
According to another study, this one published in Environment Pollution, whales and dolphins are now partly made of plastic. And recently, a peer-reviewed paper from the University of Toronto found that 90% of Great Lakes water samples have unsafe levels of microplastics.
Last month, the EPA approved a Chevron fuel ingredient with a sky-high cancer risk. It's a component of boat fuel made from discarded plastic. Even EPA scientists admit the threat level is a million times higher than what is usually acceptable. Literally every person exposed to it regularly over the course of a lifetime would get cancer.
The EPA has made many questionable decisions lately. For example, their new definition of PFAS could omit thousands of forever chemicals from regulation. Linda Birnbaum, a former EPA scientist, said of the new definition, "This is not a new definition – it is a lack of definition." All this is happening amid fierce pressure from the chemical industry.
Speaking of forever chemicals, remember how we were told that paper straws are better for the environment? It turns out 90% of them contain forever chemicals. I'm not sure why people need straws in the first place.
New research has found that fracking companies are avoiding chemical regulations thanks to a "Halliburton loophole." This loophole was inserted into the National Energy Policy Act in 2005, and it exempts up to 28 dangerous chemicals from the Safe Drinking Water Act. If you don't have a water purifier for your home, you might want to get one.
According to an in-depth report from the Wall Street Journal, abandoned telephone lines have been contaminating soil and waterways with lead. AT&T was supposed to remove the toxic cables, but they still haven't.
An investigation by the Observer found that 90% of England's most precious river habitats contain raw sewage and farming pollution. According to an analysis of government inspection reports, not even 1 of the 40 rivers with protected habitats in England are in good health.
New research published in the Lancet Planetary Health journal suggests that air pollution may be causing a rise in antibiotic resistance. Experts already fear we are entering a post-antibiotic era, and thanks to air pollution, it's happening faster than expected.
Disease
Although most people believe the Covid-19 pandemic is over, it never actually ended. Currently, a late-summer Covid wave is increasing hospitalizations in places like Texas and California.
The more people are infected with Covid-19, the greater chance that they get "long Covid," which is likely to cause mass misery in the coming decades. According to a new report published in Nature Medicine, people who have tested positive for Covid-19 have higher rates of death and many health problems including diabetes and heart failure.
A new study published in the journal, PLOS Computational Biology, warns the melting of permafrost could release "time-traveling pathogens." These are pathogens that have been frozen for tens of thousands of years. If they become active again, they could pose a major threat to humans.
Flesh-eating bacteria is spreading across the US, and experts say climate change is partially to blame thanks to warmer waters. Experts believe the bacteria, Vibrio vulnificus, will expand its territory and infect many more people in the future.
A CDC investigation has found that leprosy may be endemic in central Florida. According to a report published in Emerging Infectious Diseases, travel to Florida should now be considered when conducting leprosy contact tracing.
Many experts believe that H5N1 avian influenza is now endemic in North America. Earlier outbreaks of avian flu usually came to an end after a year or two, but this version of avian flu is stubborn and won't seem to go away. And the longer it sticks around, the greater than chance that it evolves to spread among humans.
Avian influenza already appears to be spreading among minks and foxes. Recently, Finland ordered the culling of 50,000 minks and foxes in an attempt to contain avian flu. But some experts fear it's only a matter of time before we face another coronavirus-like pandemic.
Biodiversity
According to a study published in the journal Nature Communications Earth & Environment, 4 out of 5 emperor penguin colonies saw no chicks survive last year.
The reason is the loss of sea ice around Antarctica. When sea ice breaks earlier than usual, the chicks fall into the water and drown, or they can drift away on sheets of floating ice where they starve to death. This catastrophic breeding failure is completely unprecedented and suggests emperor penguins will go extinct sooner than expected.
Scientists are shocked by the number of dead trees around the world. It seems that many forests aren't nearly as resilient as once thought. There are several reasons trees are dying including heat, drought, and bark beetles, which thrive during hot and dry conditions.
According to research published in Nature, tropical forests are approaching critical temperature thresholds. Once temperatures reach about 46.7°C, the leaves are no longer able to conduct photosynthesis. If temperatures get much higher, tropical forests will die off.
Meanwhile, the Amazon rain forest is losing 78 million acres to deforestation every year. Although Brazil's president, Luiz Inácio Lula da Silva, has slowed deforestation, it still hasn't stopped, and some experts believe the Amazon has already passed its tipping point.
In Arizona, the extreme heat is killing honeybees and literally melting their homes. To make matters worse, a study published in the journal, Frontiers in Ecology and Evolution, found that when bees are infected with pathogens, their heat tolerance is severely reduced.
New research published in the scientific journal, Ecosphere, finds that insects in Colorado are declining rapidly. A long-term study found that 62% fewer insects were trapped in a pristine meadow compared to 35 years ago. The numbers are likely far worse in urban areas and farmland.
Resources
This year, Earth Overshoot Day fell on August 2nd. That means humans have already burned through the Earth's yearly resource budget and are now drawing down resources faster than they can regenerate. In other words, we're in overshoot.
A new paper published by population ecologist, William Rees, says that becomes of overshoot, a major population correction is coming for humanity. As he says in the paper, "Humanity is exhibiting the characteristic dynamics of a one-off population boom–bust cycle. The global economy will inevitably contract and humanity will suffer a major population 'correction' in this century."
Biden's Inflation Reduction act might be leading to a major metals supply crunch. In a recent report, S&P Global found that the mining industry will face "considerable challenges" in securing metals such as nickel and cobalt for the green-energy transition.
A financial crisis is brewing in the offshore wind industry as well. Due to inflation, many offshore wind projects have been cancelled as the cost of components is simply too high. In Germany, one power company is dismantling a wind farm to make way for an open-pit lignite coal mine.
And recently, the US added copper to its list of critical raw materials. This is a bad sign as copper is needed for most electrical products in the modern world, not to mention so-called renewables.
Society / Economy
Last year, US suicides hit an all-time high. Sadly, suicides are now more common in the US than any time since World War II. As the economy gets worse, the number of suicides will likely go even higher.
The investor, Michael Burry, who became famous for predicting the collapse of the US housing market in 2008, just bet $1.6 billion on a stock market crash. There are many other signs that the US is heading for a 2008-type market crash.
The research firm, Capital Economics, says the economy is under the most pressure since 2008 and could easily fall into recession. Meanwhile, inflation-adjusted bond yields in the US are the highest they've been since the 2008-2009 financial crisis. The high cost of borrowing will likely lead to slower economic growth in the near future.
Additionally, the Federal Reserve warned that Americans will soon run out of pandemic savings, which will push the US economy to a tipping point, especially considering that 61% of Americans are already living paycheck to paycheck.
Already, Americans are pulling money out of their 401(k) plans at an alarming rate, and credit card debt has topped $1 trillion for the first time ever.
As bad as things are in the US, it looks even worse for China, where a bursting property bubble is wreaking havoc on the economy. Although China is attempting to conceal the extent of the crisis, it's becoming very obvious that their economy is rapidly weakening.
As a result, the entire global economy is heading for turbulence. Already, 70% of major economies show shrinking production. A global recession is just around the corner, but only time will tell how bad it will be.
Conclusion
That's all for this month! And I'm sorry to announce that this is going to be the last edition of Collapse Catch-Up for a while. I have to admit, I'm kind of embarrassed to be ending it so soon after I started it. There are two main reasons:
I underestimated how much time it would take. It seems there is more and more collapse-related news every month, and it's getting hard to keep up. As a result, I have less time to write other things.
I underestimated the toll it would take on my mental health. Usually, I am pretty detached when writing about collapse, but the onslaught of one sad story after another has begun to feel overwhelming.
Currently, I'm working on a very long article about why the global population will begin declining rapidly within a decade or so. After that, I want to spend my time writing more about specific stories and sharing my thoughts on collapse in general.
I apologize to those of you who look forward to this newsletter every month, but you should know that there's a similar newsletter called Last Week in Collapse that you might enjoy. You can read it on Reddit or Substack.
Once again, if you haven't started preparing for the collapse of civilization, now is the time to start stockpiling supplies, learning basic skills, and making friends in your local community. If this news made you anxious, please visit this page for a list of resources that can help.
Until next time,
— Alan
Thanks for reading! If you're new here, I highly recommend reading this article which explains why civilization is going to collapse. If you want to start preparing, check out our list of free books and manuals and our list of recommended supplies. If you're feeling anxious about collapse, please visit the support page for tips on how to manage your emotions, places where you can get help, and lists of articles and videos on coping with collapse anxiety.